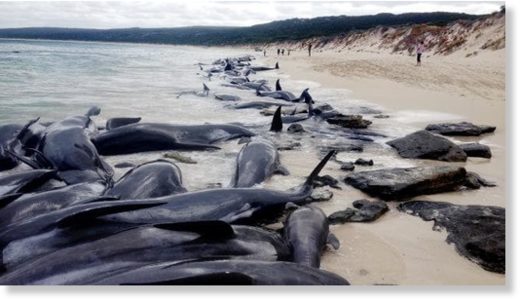 A mass stranding of more than 150 pilot whales overnight has led to the deaths of most of those animals, in one of the largest beachings on Western Australia's southwest coast in several years.
After being alerted by a fisherman early this morning, wildlife officers discovered about 75 short-finned pilot whales already dead, with around 50 still alive but beached on the sand at Hamelin Bay,
10km north of Augusta on the state's southwestern tip.
But many whales have since died,
according to senior marine operations officer for Parks and Wildlife John Edwards. At midday, volunteers and conservation officers were struggling to save 15 whales still swimming in shallow waters by guiding them back out to sea.
The Department of Primary Industries and Regional Development issued a shark advice and warned people to avoid the area.
"It is possible the dead and dying animals will act as an attractant, which could lead to sharks coming close into shore along this stretch of coast," the department said.
"While it's not uncommon for sharks to be present off the WA coast throughout the year, people should exercise additional caution until the stranding incident is resolved."
All beaches between Hamelin Bay and Boranup have been closed.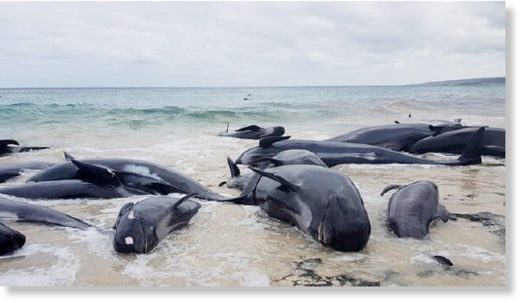 Pilot whales are abundant off the WA coast, swimming in large pods of around 100. Mr Edwards said the bulk of strandings along that coastline involve short-finned and long-finned pilot whales, which can measure up to 6 metres and weigh up to 3.5 tonnes.
The largest mass stranding of whales in WA was in 1996 when 320 long-finned pilot whales stranded themselves in Dunsborough, an hour's drive north of Hamelin Bay.

In 2009, 72 long-finned whales and one dolphin died at Hamelin Bay
despite desperate rescue efforts by hundreds of volunteers. The rescue measures included taking a dozen surviving whales by truck 20km south from the stranding site at Hamelin Bay to deeper waters at Flinders Bay, south of Augusta, with volunteers helping to keep the mammals calm and cool with a steady stream of sea water.
Only about 10 whales were believed to have survived and swam back out to sea.
Mr Edwards told
The Australian
that the reason for mass strandings is unclear, but they may coincide with weather events like changes in water temperature, or lightning strikes, or the sickness of an animal in the pod. "They can lead to the inability of an animal to work out gradients in the water."
He said DNA samples would be taken by wildlife experts to try and shed light on the reasons for the latest stranding.