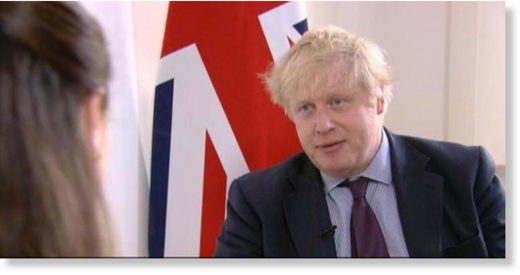 In an
exclusive interview
with DW's Zhanna Nemtsova, UK Foreign Secretary Johnson waffled on about the evils of Russia and why Putin is responsible for the attack on ex-spy Sergei Skripal. In the course of the interview, he let something very significant slip.
ZN: You argue that the source of this nerve agent, Novichok, is Russia. How did you manage to find it out so quickly? Does Britain possess samples of it?

Boris Johnson: Let me be clear with you ... When I look at the evidence, I mean the people from Porton Down, the laboratory ...

ZN: So they have the samples ...

Boris Johnson: "They do. And they were absolutely categorical and I asked the guy myself, I said, "Are you sure?" And he said there's no doubt. We have very little alternative but to take the action that we have taken..."
So the British Foreign Minister has admitted that the British department of defense has "novichok" stocks that were allegedly used against the former Russian spy working for British intelligence.
Now all you have to decide is in whose interest it was that the poisoning occurred.