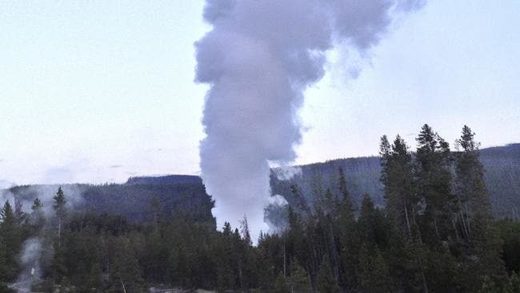 Just weeks after Yellowstone National Park was rocked by more than 200 earthquakes, the world's tallest geyser
(also at Yellowstone) has erupted.
Employees at the park, which is located in Wyoming, USA, had reported seeing an eruption coming from the Steamboat Geyser on Thursday.
The geyser has not erupted since September 3, 2014
,
according to Newsweek.
"We don't really know the exact duration for the eruption at this time," Wendy Stovall, a US Geological Survey scientist with the Yellowstone Volcano Observatory, told the news site, adding that it's possible it will erupt again.
Unlike the popular Old Faithful geyser at the park, which erupts every 35 to 120 minutes (hence the name), Steamboat Geyser's eruptions are much more sporadic.
"Like most geysers, eruptions of Steamboat can't be predicted: they may be days or decades apart," the park tweeted.
"When it erupts, Steamboat reaches heights up to 380 feet (115 metres). That makes it more than three times the size of Old Faithful, and higher than any other active geyser in the world!"
The steam from Old Faithful averages a height of 40 metres.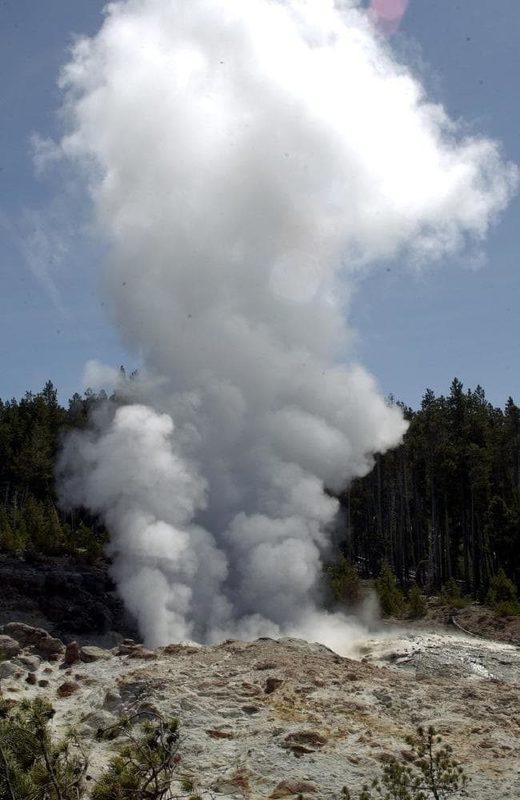 According to Ms Stovall, there are no concerns about the supervolcano erupting as a result of the geyser's activity.
"We have zero concerns that anything is happening volcanically," Stovall said, explaining that geysers have been erupting continuously and "that doesn't mean that anything is happening with magma underground".
Comment:
There are plenty of reasons to be concerned:
Scientists and park officials will continue to monitor the site, however, and the surrounding area, which is still closed for the winter season, will remain inaccessible to visitors.
The park's website states that Yellowstone features more geysers (about 500) than anywhere else on Earth. In fact, there are only about 1000 geysers worldwide.
Geysers are vents in the Earth's surface that periodically spray hot water and steam into the air. They only exist in very specific conditions and
are closely linked to active volcanoes.
If the Yellowstone supervolcano were to blow, it is believed it is capable of covering the majority of the United States under a blanket of lava and ash.