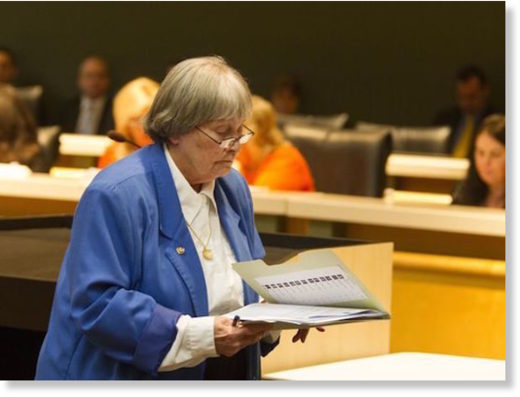 The National Rifle Association sued in federal court Friday
to block a new Florida law, just signed by Gov. Rick Scott,
that prohibits gun sales to anyone under 21.
"We filed a lawsuit against the state for violating the constitutional rights of 18- to 21-year-olds," said Marion Hammer, lobbyist for the NRA in Florida. NRA lawyers in Tallahassee and Washington, D.C., were working on the complaint Friday afternoon, and filed the complaint moments before the court's deadline.
Hammer had previously called the legislation "political eye-wash."
The suit was filed just over an hour after Scott signed the Marjory Stoneman Douglas High School Public Safety Act into law
. He expected opposition from the gun lobby.
"I'm an NRA member, and I was an NRA member when I became governor. I'm going to be an NRA member when I'm not governor," Scott said at the bill signing. "I'm sure there are NRA members that agree with this bill, some that don't agree with this bill."
The law was enacted in the wake of the Valentine's Day shooting death of 17 students and teachers at Stoneman Douglas, allegedly by a 19-year-old former male student who authorities said legally bought the AR-15-style rifle used in the attack.
The lawsuit names Attorney General Pam Bondi and Rick Swearingen, Commissioner of the Florida Department of Law Enforcement. Scott's office said he was reviewing the lawsuit.
More about the school safety law
Read the NRA lawsuit aiming to shut down gun control law
Florida Governor Rick Scott signs gun control bill, arms some teachers
The complaint says the new law prohibits law-abiding citizens between the ages of 18 and 21 from lawfully purchasing a firearm of any kind.
"This blanket ban violates the fundamental rights of thousands of responsible, law-abiding Florida citizens and is thus invalid under the Second and Fourteenth Amendments," it says.
The complaint says the law particularly affects young women.
"Females between the ages of 18 and 21 pose a relatively slight risk of perpetrating a school shooting such as the one that occurred at Marjory Stoneman Douglas High School, or, for that matter, a violent crime of any kind."
The lawsuit cites a report that in 2015 only 1.8 percent of those arrested for violent crime were women in that age bracket, while men in that age group made up 8.7 percent of arrests for violent crime.
The complaint also says the law violates the 14th Amendment's equal protection clause by banning adults between 18 and 21 from buying guns but does not apply such a ban to adults 21 and over.