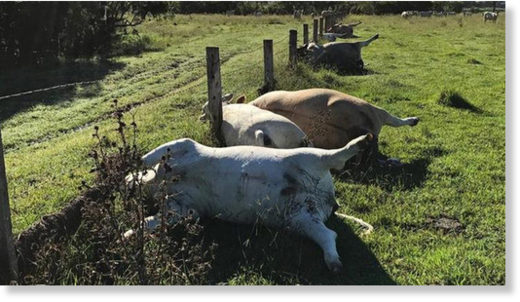 A Queensland farmer says the death of six cattle found lying in a row along a fence line on his property is a warning about the dangers of lightning strikes.
Derek Shirley discovered the dead animals two days after a storm at his mother's property in Beaudesert last month.
Three calves and three cows, worth approximately $10,000, were all dead following a lightning strike.
Mr Shirley said it was the first time he'd encountered a lethal lightning strike.
"The storm was on the Monday afternoon and at about 6pm there was one hell of a bang," Mr Shirley told AAP.
"We're lucky there weren't 50 of them there. It hopefully gives everyone a bit of a wake up call about the dangers of being outside in a storm."
Mr Shirley said he only investigated the site two days later because he'd seen one of the dead animals.
The property normally runs 80 cows and calves, he said.
It is suspected standing water on the already-saturated ground near the fence where the cows died contributed to the strike's deadliness.
Source: AAP