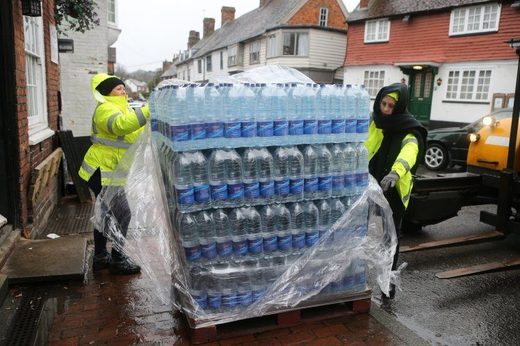 Many thousands of people say they have been without water for 24 hours, as
providers issue a warning about supply.
People across the UK are being urged to use as little water as possible after
thawing temperatures caused pipes to burst.
Residents of some parts of London and the South East said they had been without water for more than 24 hours by Sunday night,
with little indication of when supplies would return.
Midlands provider Severn Trent said some
water had been cut in the Birmingham area due to "unprecedented" leaks.
Some schools in the area warned they may have to close as a result of the disruption.
Suppliers in Wales, Scotland and Ireland, as well as the North West, Yorkshire and the South West, also warned of shutoffs
caused by burst pipes following the recent freeze and thaw.

Comment: So basically everywhere!


In a joint statement on Sunday, four South East companies said they were experiencing "exceptionally high levels of demand" and Thames Water said 12,000 homes were without water.
They urged those who still had access to avoid all but essential water use.
Taking short showers rather than baths, being careful to turn taps off and only running washing machines and dishwashers with a full load "will make a real difference", the statement said.
Companies also asked that customers check their pipes for bursts and call a plumber if necessary, explaining that outdoor taps were especially vulnerable.
The problems are caused by pipes damaged by frozen water in the low temperatures, but some suppliers warned that
the thaw could also cause ground movement that would further damage infrastructure.
Distribution sites have been set up in London for customers to collect bottled water.
Donna Wright was among those who queued for water in Streatham, south London, telling Sky News: "No one's got any water and I've gone and coloured my hair and I can't rinse it out.
"You can't flush the toilet, you can't get a bath
, it's really quite uncomfortable."
Tina Callaghan, who is disabled, had also come to collect bottled water and said: "You can't go to the toilet, you can't make tea.
"Water is an essential part of life.
"You don't realise until something like this happens how much you actually need it."
On Twitter, angry customers contacted their providers to complain and call for further information.
South London resident Natasha Prayag told Sky News she was without water late into Sunday night, after her supply was cut off on Saturday evening.
She said she had travelled to her family's house to shower and had been helped by friends who delivered bottled water, as most nearby shops had sold out.
"I've been OK," she said, but shared concerns for the "elderly and sick who cannot venture out to collect water" from a station more than a mile away.
In the joint statement, water companies said they "sincerely apologise" to those experiencing problems.
"We are putting as much extra water as we can into our local networks and fixing leaks and bursts as quickly as possible," it said.
On Sunday night, services for vulnerable customers were being prioritised and locations for the distribution of bottled water set up.
London's water collection points are located at Hampstead No 1 Pond Car Park in North London, and the Homebase on Woodgate Drive, Streatham Vale.