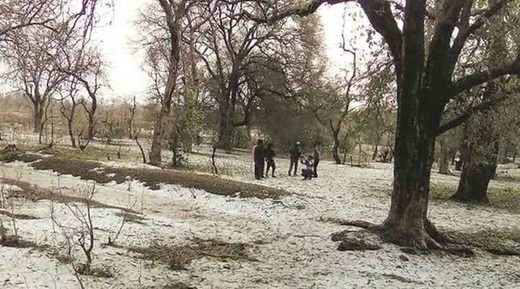 Some parts of rural Maharashtra woke up to a white blanket this morning,
with an unusual spell of hailstorms
. The unusual spell of hailstorm and heavy rainfall that started early this morning has claimed two lives in Maharashtra. The gusty winds and hailstorm have also destroyed standing crops of wheat, grapes and chickpea in Jaalna, Beed, Buldhana, Washim, Amravati and Akola districts of Vidarbha and Marathwada regions.
Not just that,
the heavy rainfall has destroyed most of the winter crop that was ready to be harvested.
On February 7, the India Meteorological Department (IMD) had issued an advisory stating the possibility of hailstorm in parts of Maharashtra. However, the MET officials stated that this was just an advisory issued at a very primary stage but not a warning.
Taking a serious note based on the advisory issued by MET, the state government on Saturday(February 10) had warned the farmers to be prepared for a hailstorm.
According to a PTI report, a government official said, "The system is developing and it may lead to hailstorm from February 10 onwards till February 14 in Marathwada and Vidarbha. This type of rains could cause heavy losses and damage to property and cattle."
It seems like the MET department prediction has come true. In its advisory, the MET department stated that on February 10, hailstorm-like situation may develop over Gadchiroli, Chandrapur, Bhandara, Gondia, Nagpur, Wardha, Nanded, Latur and parts of Yavatmal and Amravati districts, while the eastern parts may receive thunderstorms.