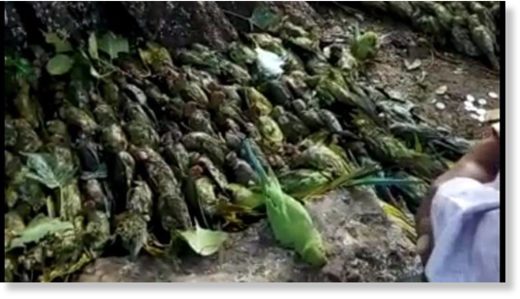 Over 500 birds, mostly parakeets, were killed in the hailstorm that hit Bhandara and Gondia districts on Tuesday. Of them, 460 parakeets died in the Tumsar town of Bhangade district alone.
Confirming the deaths, Tumsar Range Forest Officer A R Joshi said,
"Over 460 parakeets nestled over a peepal tree perished in the hailstorm between 8 pm and 8.30 pm. The hailstones were weighing about 50 gm each."
"Problem was compounded for the birds by the honey bees that started attacking the birds when their comb also came down due to the hailstones impact. Many of the bees also died in the storm," Joshi added.
Bird deaths were also reported from Goregaon in Gondia district. Anil Kumar of Wildlife Trust of India said, "We have found 20 parakeets, eight pond herons, one spotted dove and four magpie robbins dead in the area."
Honorary Wildlife Warden of Gondia Savan Bahekar said,
"There are reports of more casualties from some other pests of the district but no counting had yet been done."