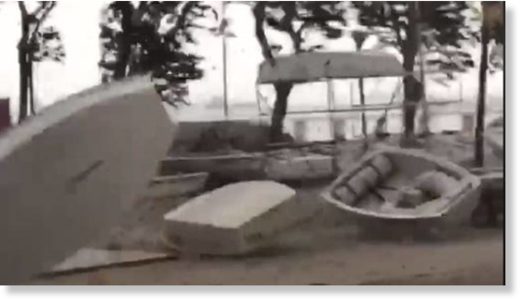 Heavy rain fell across Singapore on Wednesday (Jan 31), with unusually strong winds sending a dumpster and even a few boats flying in the air at East Coast Park.
Videos circulating online show the fierce gusts blowing leaves and debris up into the air. At least three boats are seen being tossed into the air as well. The person taking the video exclaims and flees when the boats are blown in his direction.
A spokesman for the National Sailing Centre (NSC) confirmed with
The Straits Times
that it happened near the centre.
"A strong gust of wind together with a waterspout came through NSC and left a trail of damages this afternoon," said the spokesman. "It was fortunate that sailors were recalled as per standard operating procedure and waited under shelter when the siren was sounded earlier."
The spokesman added that its employees were on hand to assist and usher NSC visitors indoors and to sheltered areas.
"Everyone is accounted for and safe," said the spokesman. "This was a good reminder for why we need to respect Mother Nature, to stay under shelter during a storm or when the siren is sounded, and to always return our boats to the racks after sailing."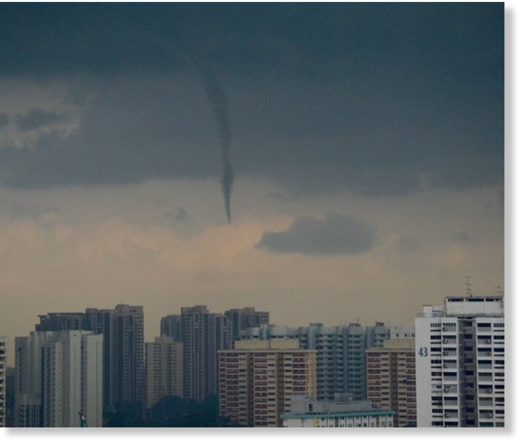 Another video sent in by an ST reader shows a large green dumpster being battered by strong winds at East Coast Park.
There were also reports of a tree which fell along Marine Parade Road, with bus services being diverted as a result.
The stormy weather also prompted national water agency PUB to issue high flood risk alerts for two areas. The first was issued for Tampines Road, which is a hot spot for flooding.
PUB had said on its social media accounts in an alert at 4.22pm that heavy rain was expected over many areas in Singapore from 4.50pm to 5.50pm.
According to the National Environment Agency's (NEA's) website, thunderstorms are expected across the island from 5.30pm to 7.30pm.
PUB issued a high flood risk alert for Tampines Road at 5.52pm. The water level in the measuring drains rose to 100 per cent before subsiding in a matter of minutes.
Tampines Road had been flooded across three lanes on Jan 8, along with eight other locations after a bout of unusually intense rain.
The area is a hot spot for flooding. PUB said in a previous statement after the Jan 8 floods that there are ongoing drainage improvement works to improve flood protection at the flooded areas.
PUB also issued a high flood risk alert for Arumugam Road in Ubi at 6.10pm.
Singapore is currently experiencing the north-east monsoon, which is expected to last till March.
On Tuesday, flash floods occurred at Seletar North Link. Hailstones reportedly fell in some areas in Singapore including Yishun and Seletar.
"We urge the public to exercise caution and avoid stepping into or driving into flooded areas," said PUB in a statement on Thursday's flooding. "During this period of monsoon season, the public should stay tuned to radio broadcast and check PUB's Facebook page or PUB's mobile app MyWaters for flood updates."