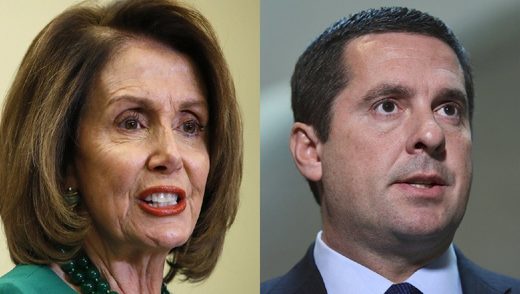 House Minority Leader Nancy Pelosi and Senate Minority Leader Chuck Schumer on Thursday called on House Speaker Paul Ryan to remove Rep. Devin Nunes, R-Calif., as chairman of the House Intelligence Committee because of his effort to publish a GOP memo outlining surveillance abuses at the FBI.
"Chairman Nunes' deliberately dishonest actions make him unfit to serve as Chairman, and he must be immediately removed from this position," Pelosi, D-Calif., wrote to Ryan, R-Wis.
"House Republicans' pattern of obstruction and cover-up to hide the truth about the Trump-Russia scandal represents a threat to our intelligence and our national security," she said. "It is long overdue that you, as Speaker, put an end to this charade and hold Chairman Nunes and all congressional Republicans accountable to the oath they have taken to support and defend the Constitution, and protect the American people."
Full text: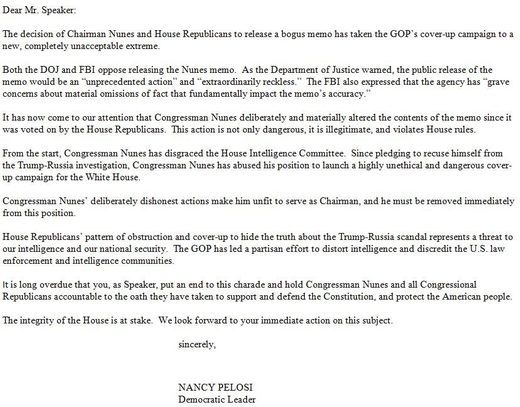 Schumer penned a separate letter to the House Republican leader, saying he has not taken "credible action" to deal with Nunes as the memo, which he has deemed "conspiracy-themed," is set for release.
"Quite simply, under your leadership, dangerous partisanship among many House Republicans seems to have taken precedent over the oath we all take to protect our nation," Schumer said. "The American people have a right to know the answers to these questions. I urge to answer the preceding questions; remove Chairman Nunes from the HPSCI; withdraw support for the release of the HPSCI's memo; and insist on supporting swift passage of legislation protecting Special Counsel Mueller's investigation from political interference."
Comment:
Why would the White House
interfere
with Mueller's investigation? If the memo contains enough information to hang him, Rosenstein, McCabe, Comey, Strzok, Page, (and oh, if only!) Killary and Obama et al, the White House doesn't have to lift a finger.
Democrats are fuming over the Republican plans to release the memo, and have called it an attempt by the GOP to distract from the ongoing investigation into President Trump's possible ties to and collusion with Russia during the 2016 election. But
Republicans say the memo summarizes how the FBI abused its surveillance authority to keep tabs on Trump's transition team.
The GOP also says it is going through the proper procedure, first by voting on its release, and then giving the Trump administration time this week to review it and decide whether to let it be released to the public. Members of the Trump administration have indicated they will approve of its release.
Democrats countered that Republicans have tweaked the memo, and shouldn't be able to release it in its current form, since the committee voted Monday to release a different version.
The FBI warned Wednesday that the memo should not be released in any form due to "grave concerns" with its accuracy.