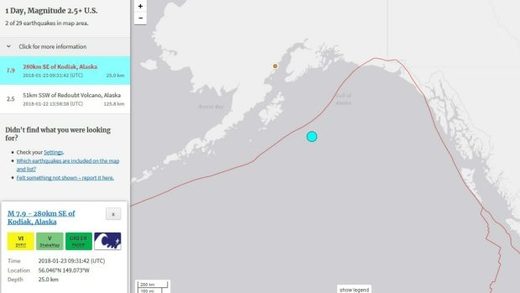 A tsunami warning has been posted for the coast of British Columbia and Alaska following a powerful earthquake in the Gulf of Alaska.
The U.S. Geological Survey says the quake has a preliminary reading of 8.2 and struck 278 kilometres southeast of Kodiak, Alaska, at a depth of about 10 kilometres.
Environment Canada says the tsunami warning covers the Central Coast and Northeast Vancouver Island coast, including Kitimat Bella Coola and Port Hardy
The weather agency says people in coastal areas are at risk and should move to high ground now and heed further instruction from local authorities.
More updates to come.
Comment:
UPDATE:
Zero Hedge
are reporting the whole coastal town are being evacuated:
A powerful 8.2-magnitude earthquake detected in the Gulf of Alaska has triggered tsunami warnings in Alaska and tsunami watches across several Western states through British Columbia all the way down to San Diego...

Earthquake watches are also in effect for Hawaii

The earthquake struck about 175 miles southeast of Kodiak, Alaska, shortly after midnight in Alaska local time, according to preliminary figures from the United States Geological Survey. The quake had a depth of about 6 miles, according to USGS. That depth, meteorologists pointed out, is relatively shallow, raising the risk of dangerous tsunamis in Alaska.

In Kodiak, first responders drove through the streets warning residents to "evacuate immediately"...

Tsunami waves move surprisingly quickly, one meteorologist said, point to the following graphic.

The U.S. Geologic Survey gave a preliminary magnitude of 7.9, while the National Weather Service put the final magnitude at 8.2.

In its warnings, USGS stated: "If you are in a tsunami warning area: Evacuate inland or to higher ground above and beyond designated tsunami hazard zones or move to an upper floor of a multi-story building depending on your situation.

"If you are in a tsunami watch area: Prepare to take action and stay alert for further information."

"If you're on the beach and the tide suddenly goes out, head inland immediately."

Nathaniel Moore was on a boat docked in Kodiak when he felt the ground "shake really good for a minute." He said the fishing vessel's crew got off the boat after the earthquake to head for higher ground amid the tsunami warning.

"

The whole town is evacuating

," he told CNN early Tuesday.

Heather Rand, who was in Anchorage, Alaska, told CNN that the earthquake "was a slow roller, so it was felt for at least a minute before the real rolling started. Nothing fell off the walls and I didn't have to wake my kiddo."

She said it felt like the longest earthquake she had ever experienced.

"It was a very long, slow build up. Creepy, more than anything. Definitely the longest, and I was born here," Rand said. She reported no damage besides cracks in the drywall.

Waves should be reaching the Alaska shoreline in an hour or so, meteorologists said.




UPDATE 24/01/2017:
The UK's
Daily Express
, which seems to like a bit of alarmism when it comes to reporting natural phenomena, runs the headline:
Alaska earthquake: Fears grow for Mount St Helens volcano ERUPTION after 8.2 quake.
The note reads:
THE 8.2 magnitude earthquake that has triggered tsunami warnings off the coast of Alaska has sparked fears it could awaken America's most deadly volcano Mount St Helens, with the 8,363ft mountain's threat level at "very high" as shockwaves rattle the northwest states. [...]

Between 2004 and 2008 it was classed as being in a state of eruption as it continuously released magma.

And it is now feared the volcano could erupt again in the wake of this morning's powerful earthquake off the coast of Alaska.

The US Geological Survey has its current threat level at "very high" as shockwaves of the earthquake, which initially measured 8.2 before being downgraded to a 7.9 magnitude quake, send tremors across the northwest. [...]

The Alaska Volcano Observatory has put the the 1,730m Cleveland Volcano in Alaska on the "Watch" category of "Orange Alert", which means it is "exhibiting heightened or escalating unrest with increased potential of eruption".

If the alert level rises to "Warning/Orange" it will mean that an eruption is "imminent, underway, or suspected".

The state's bigger Shishaldin Volcano, that stands at 2,857m, is on a lesser yellow alert.

Volcanic eruptions have occurred shortly after earthquakes in the past and scientists believe it is likely they are linked.