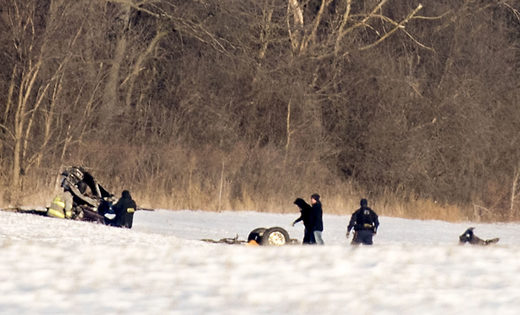 Law enforcement officials Thursday afternoon were investigating an explosion in a field north of Janesville that was linked to a noise dozens of residents reported hearing Thursday morning.
Leon Brown, who lives next to the property where the explosion occurred, said a vehicle exploded around 9:30 a.m. Photos taken at the scene show the remains of what appears to be an obliterated vehicle.
Rock County 911 Communications Center Director Kathy Sukus said officials were investigating the incident in connection with the explosion noise and shaking houses in Janesville, Milton and Edgerton reported earlier.
Reporters at the scene Thursday afternoon saw several law enforcement officials and vehicles in a field north of the intersection of North Kennedy and East Manogue roads. A lone law enforcement vehicle with a trailer was spotted several dozen yards southwest of the officials.
Officials said they would issue a news release with more information Thursday night, but none was received by midnight.
Several residents in the Janesville and Milton areas reported hearing a noise that sounded like an explosion Thursday morning, but at the time the cause was unknown.
The Janesville Police Department received two calls from east-side residents who said they heard an "
explosion overhead
," said Sgt. Dean Sukus.
The Rock County Communications Center also fielded a few calls starting about 9:28 a.m. from residents reporting a loud noise.
Residents who live several miles apart in Janesville reported on Facebook that they heard a loud bang and felt their houses shake.
Sukus said he knew of no power outages in the area and guessed it was a sonic boom from a passing jet. However, an official at Truax Field in Madison confirmed military jets weren't flying in the Janesville area at the time of the reports.
An air traffic controller at the Southern Wisconsin Regional Airport said there was no military air traffic in the area at the time of the reported noise. The Chicago Rockford International Airport in Rockford, Illinois, also reported no air traffic that might explain it, the controller said.
Several Facebook users hypothesized the noise and vibrations could have been caused by a cryoseism, or an ice or frost quake, which is the result of sudden cracking in frozen soil.
A post on the 608 Janesville Area Scanner Facebook page about reports of an explosion had more than 500 comments and more than 300 shares as of 11:30 p.m. Thursday.
Several people from Janesville and Milton and some from the town of Johnstown, Edgerton and other locations commented that they heard a loud noise and felt their houses shake. Some reported it was loud enough to wake them and strong enough to open cupboard doors and knock things off walls.
This story will be updated.