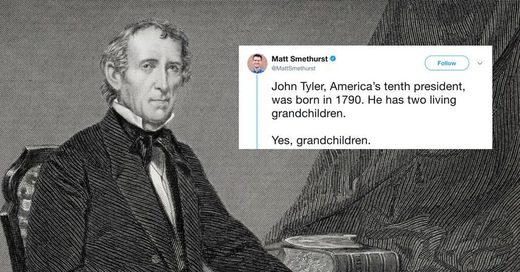 Okay, we know you aren't going to believe this, but it's true: John Tyler, the 10th President of the United States, has two grandchildren that are still living today. IT'S TRUE, WE SWEAR. Tyler served as President from 1841 to 1845 and has two grandchildren who are still alive some 173 years later.
Matt Smethurst tweeted the fun fact on Tuesday:
But how could this be possible? Well, it turns out the answer is simpler than you think. President Tyler just never stopped having children. When he died in 1862, he had 15 children. The youngest of those 15 kids remarried and had children late in their lives, which resulted in our current situation.
Harrison Ruffin Tyler, one of President Tyler's grandchildren, was born in 1928 and explained everything to
New York Magazine
:
Both my grandfather - the president - and my father, were married twice. And they had children by their first wives. And their first wives died, and they married again and had more children. And my father was 75 when I was born, his father was 63 when he was born.
People were so dubious about the claim that Snopes fact checked it and rated it "True!" Though Harrison has mentioned in past interviews that his older brother, Lyon Tyler, is "not doing good," both are reportedly still kicking in 2018, which is truly amazing.
Matt Smethurst puts the Tylers' lives in context:
None of this is quite as astonishing to the Tyler boys themselves, however.
When asked how people react when they find out about his illustrious lineage, Harrison Tyler said:
I don't know, I don't bring it up.
You read that right. He doesn't bring it up. Stone cold, Harrison.