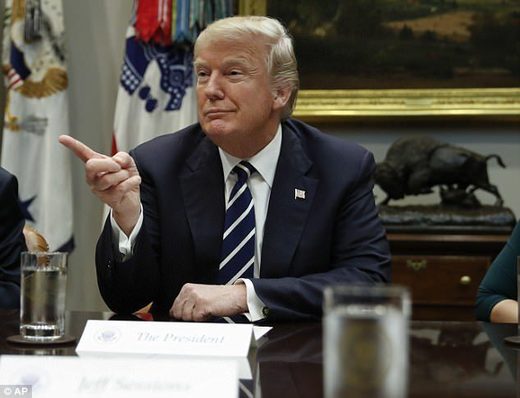 Twitter users are telling President Donald Trump that no Norwegian would ever give up access to free healthcare and a longer life expectancy to move to his 's**thole country.
Trump made headlines on Thursday when he lashed out in a meeting with lawmakers about immigration reform, demanding to know why the US should accept citizens from what he called 's**thole' countries.
He was speaking about people from Haiti, El Salvador and various African nations, people briefed on the meeting told the
Washington Post
.
'Why are we having all these people from s**thole countries come here?' Trump said.
'Why do we need more Haitians?... Take them out.'
Trump then suggested the US should welcome immigrants from places like Norway, whose prime minister met with Trump on Wednesday.
But Twitter users, some of them from Norway, quickly lashed out asking Trump: Why would Norwegians want to come to America?
'I'm confused - why the f*** would anyone migrate to the US from Norway? Why would you give up healthcare free at the point of access, living wages and reliable public services?,' one tweet read.
'I live in Norway and would never move to USA. We have free health care, free higher education, 5 weeks vacation 8 hours work a day. No thanks Trump,' another user tweeted.
'If you want to attract more immigration from Norway, you're going to need to provide Universal Healthcare, Free College, and robust social safety nets. Because they already have all those things.
'Norway has: universal healthcare, strong labor unions, paid maternity leave. Why the f**k would Norwegians possibly want to move here?
'Of course people from Norway would love to move to a country where people are far more likely to be shot, live in poverty, get no healthcare because they're poor, get no paid parental leave or subsidized daycare and see fewer women in political power. #s**thole.'
Trump's initial comments from earlier sparked anger among Democrats and revived questions about Trump's tendency to make racially charged remarks.
The White House did not deny his remark but issued a statement saying Trump supports immigration policies that welcome 'those who can contribute to our society.'
Trump's comments came as two senators presented details of a bipartisan compromise that would extend protections against deportation for hundreds of thousands of young immigrants - and also strengthen border protections, as Trump has insisted.
The lawmakers had hoped Trump would back their accord, an agreement among six senators evenly split among Republicans and Democrats, ending a months-long, bitter dispute over protecting the 'Dreamers.'
But the White House later rejected it, plunging the issue back into uncertainty just eight days before a deadline that threatens a government shutdown.
On Thursday night, Trump was pushing for 'a Great Wall' and criticizing Democrats' stance on immigration, highlighting the difficulties for any negotiations.
'
The Democrats seem intent on having people and drugs pour into our country from the Southern Border, risking thousands of lives in the process. It is my duty to protect the lives and safety of all Americans,' he said in a late-night tweet. 'We must build a Great Wall ...'
Trump's initial remarks were remarkable even by the standards of a president who has been accused by his foes of racist attitudes and has routinely smashed through public decorum that his modern predecessors have generally embraced.
He has claimed without evidence that Barack Obama, the nation's first black president, wasn't born in the United States, has said Mexican immigrants were 'bringing crime' and were 'rapists' and said there were 'very fine people on both sides' after violence at a white supremacist rally in Charlottesville, Virginia, left one counter-protester dead.
In the past, Trump has called himself the 'least racist person that you've ever met.'