Comment:
Update 11 Jan 2018, 15:00 EST
The death toll has
climbed to 17
. 8 people remain missing. Up to 500 homes were damaged in the mudslide, dozens of which were completely destroyed.
Update 10 Jan 2018, 13:00 EST
Latest figure is
15 dead
, all at Montecito, Santa Barbara County.


Update 10 Jan 2018, 06:00 EST
The death toll is
up to 13 now
, and is expected to rise further. Rescue operations are underway in Santa Barbara, Ventura and Los Angeles counties, the very counties torched by California's worst-ever wildfires (and which this record rainfall just put out). This incident is already deadlier than the
2005 La Conchita landslide in southern California
, which took place only 20 miles from yesterday's disaster.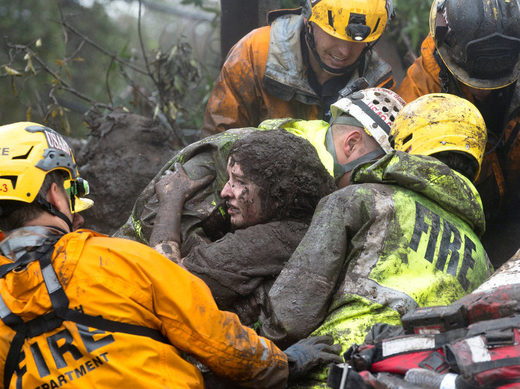 A fire official says five people have been killed by mudslides that swept Southern California homes from their foundations as a powerful storm drenched recent wildfire burn areas.
Santa Barbara County Fire Department Capt. Dave Zaniboni says the bodies were found in mud and debris during rescue operations Tuesday in Montecito northwest of Los Angeles.
Heavy rains were triggering dangerous flooding Tuesday morning in Southern California, with rivers of mud and debris destroying at least three homes and pooling water forcing police to close parts of the coastal US Route 101, officials said.
Near the coastal community of Montecito, at least three homes have been "wiped away by mudflow and debris," and emergency workers were scrambling to rescue people from vehicles and buildings, Santa Barbara County fire spokesman Mike Eliason said.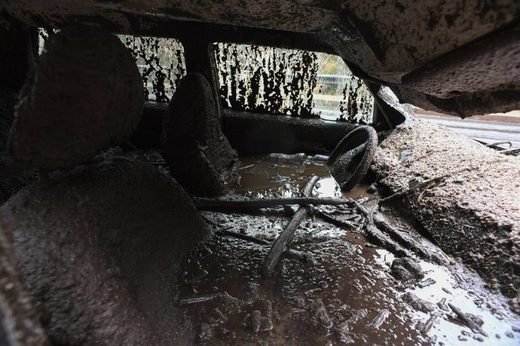 The heavy rain was falling in areas charred by recent wildfires, triggering fears of flash flooding and mudslides because vegetation that otherwise would hold hills together and make the terrain flood-resistant have burned away.
Thousands of people in Southern California were under evacuation orders because of flooding and mudslide fears, including in Santa Barbara, Ventura and Los Angeles counties.
#CAstorm- Santa Barbara County Firefighter's use a search dog to look for victims where multiple homes once stood in Montecito following flooding due to heavy rain. pic.twitter.com/xZcI4PNmej
- SBCFireInfo (@EliasonMike) January 9, 2018
Check out this mudslide blocking NB lanes of 101 between Carpenteria and Montecito. The highway is closed from Ventura to Santa Barbara. pic.twitter.com/idt5nmntbx- Leah Pezzetti (@leahpezzetti) January 9, 2018
Flooding near La Conchita has prompted the closure of parts of U.S. Route 101 in Ventura County, the sheriff's office there said Tuesday morning.
Girl rescued from California mudslide
Firefighters have rescued a 14-year-old girl from the rubble of a home devastated by a mudslide in the Montecito area of Southern California after a powerful storm hit an area ravaged by a December wildfire.
#CAStorm - Firefighters rescue a girl who was trapped in Montecito following heavy rain and mudflow in the 300 block of Hot Springs Road. pic.twitter.com/tfUw0cDbXx
- SBCFireInfo (@EliasonMike) January 9, 2018
Santa Barbara County authorities say there have been five confirmed fatalities as of Tuesday morning and there is a backlog of 75 calls for rescue or evacuation from the area.
House is 'surrounded by mud'
In Montecito, a community of about 8,000 people east of Santa Barbara, Ben Hyatt told CNN on Tuesday morning that a river of mud had crashed through a neighbor's house.
"Apparently one of their cars ended in their back yard. We have neighbors at (the) top of street that evacuated to their roof," Hyatt said.
His own house was "surrounded by mud," and a washing machine had drifted into his front yard, he said.
Hyatt said he was awake when power went out during heavy rain around 2:30 a.m. local time. Eventually he heard a loud swish and banging on the exterior of his house.
"Mud came in an instant, like a dam breaking. (It) surrounded the house, 2 to 3 feet," he said.