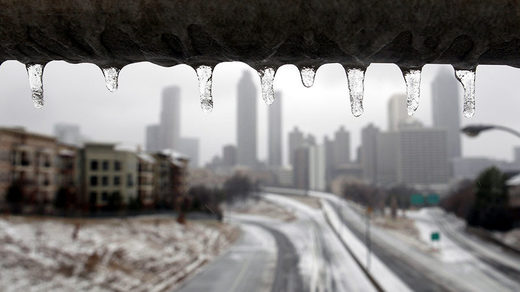 Georgia Governor Nathan Deal (R) has declared a state of emergency for 28 counties in the southeastern part of the state after a Winter Storm Warning was issued from Florida to North Carolina.
The
state of emergency
covers
"much of Southeast Georgia"
and took effect immediately and extends through to midnight January 5.
"The state has begun preparations for potential winter weather in the 28 counties, including sending all Georgia Department of Transportation brine trucks and 75 additional plows to the impacted areas,"
Deal said in a
statement
.
"The emergency declaration ensures all state resources are available if necessary."
Deal signed the executive order after the National Weather Service (NWS) issued a
Winter Storm Warning
Tuesday, forecasting
"significant amounts of snow, sleet and ice"
across parts of Florida, Georgia, South Carolina and North Carolina
In total, certain parts of the states are expected to receive up to three inches of snow and ice accumulations up to half an inch. The heaviest snowfalls are expected to occur from 7:00am to 1:00pm Wednesday.
The NWS further warned residents that wind chills are expected to range from 30 degrees Fahrenheit to 10 above zero - which have the potential to cause hypothermia and frostbite to exposed skin in
"as little as 30 minutes."
"Today's high temperatures are where our lows should be this time of year,"
Channel 2 meteorologist Brad Nitz said on Twitter.
"The average low for the first week of January is 34 degrees."
The NWS of Jacksonville, Florida warns residents the storm could drop power lines and snap trees or branches, causing
"Widespread Electrical Outages."
On Tuesday, the Jackson Electric Membership Corporation, which provides power to the residents of Atlanta and surrounding areas, said the freezing temperatures have already caused
"scattered outages"
for up to 1,600 customers.
Joe Dorough, the Vice President of Engineering and Operations at Jackson EMC said the power failures were caused by overloaded equipment breaking down.
"We expect electrical demand to be very high during these extremely cold temperatures, which will stress our system and could cause some of our equipment to go out under overload,"
Dorough said in a
statement
Tuesday.
Jackson EMC has implemented a
"load management program"
to control peak power demand by cycling water heaters off for short periods of time.
Deal warned that temperature changes over the following days are expected to melt and refreeze the snow, creating
"additional ice related hazards."
The NWS advised residents in affected areas to plan for difficult travel conditions that will make the Wednesday morning commute
"dangerous and nearly impossible."
Winter Storm Grayson is expected to blanket much of the east coast with sleet, snow and heavy winds through Thursday.