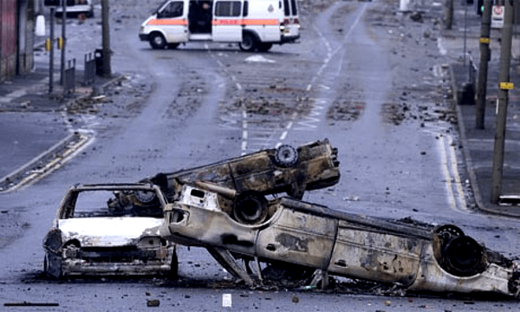 Nine in ten people say Bradford is divided, in a nod to the city's failed multiculturalism experiment, according to a new poll in a local newspaper.
The eye-opening survey comes as city councillors said "Asian youths" had attacked pubs owned by white business owners in November and more generally intimidated women from visiting the town centre after dark to enjoy the night time economy. The council chamber heard further claims that armed police had been required at a recent Jewish community event amid a "huge increase" in anti-Semitism and that people had been caught "goose-stepping" outside a centre for asylum seekers in Keighley.
A report on the story, appearing in both
the
Telegraph & Argus
and
Asian Image
, asked readers: 'Do you think Bradford is a divided district?' to which a whopping 89 per cent answered 'yes' in a poll of almost 2,300 people.
Latest census information published in June 2017 revealed that
Bradford is home to the largest Pakistani population in England (20.3 per cent) with a quarter of the population (24.7 per cent) identifying as Muslim.
At last Wednesday's meeting of Bradford City Council's Corporate Overview and Scrutiny Committee, councillors had heard the findings of a new report designed to strengthen community relations in the northern city. The report said the council's diversity and cohesion team was working with all religious groups and other organisations in its response to the Louise Casey report on opportunity and integration, which gives recommendations to the government.
But
councillor Arshad Hussain, who chairs the committee, said there were "many areas in this city" where people were afraid to go

depending on their ethnicity.
"Community relations in this city were a lot better 25 years ago,"
the Labour member told the public meeting. "Are we really achieving what we are supposed to be achieving? I don't think so. Last month on Bonfire Night in my ward,
three pubs were stoned by Asian youths
. These were the only white businesses in the area. No Asian businesses were attacked. They were targeted because they were white."

He added: "I am really cheesed off with things like this.
There are so many areas in this city where white people are scared to go into. Likewise there are other areas where Asian people are scared to go into.
That is a horrible state of affairs and it should never have got to this stage. Perhaps you should start to do things in a different way. You tend to use the same organisations time and time again. Perhaps you should start delivering on the doorstep and getting new groups on board because I think we are heading towards disaster."
Conservative councillor Simon Cooke said: "At a recent event at the synagogue there were armed police posted outside. Is that an example of community cohesion that a Jewish event needed police protection? I think we are kidding ourselves. I represent thousands of people who never come into Bradford and I am only five miles up the road. They say they don't feel safe. That's the reality."
And councillor Vanda Greenwood, continuing the damning indictment of Bradford's integration agenda, added: "There is a real problem of people's perception of Bradford. My daughter is 23 and she and her friends say they will not come into Bradford for a drink or night out because they say there are gangs of Asian males hanging around. They say they do not feel safe and instead go to Leeds."
Presenting the report, Ian Day, the council's assistant director for neighbourhood and customer services, said there was work going on with the communities and there was funding for that work.
"I do recognise that there is more work to do.
Funding resources are being put into areas where there are

entrenched

views
," he told the chamber.
But local resident Ryan Quinn, responding to the survey results, told
Shy Society
: "I would absolutely agree with the statement that Bradford is divided and it's not surprising at all that 89 per cent of people feel that way here.
Since the Bradford riots the political class here has done nothing but

pander to political correctness

- hoping to bridge the divide but instead widening it.
"I feel like identifying the outcome of multiculturalism is good but the cause needs to be identified along with it for anything to change."
To read the minutes from the latest meeting
visit this page
.