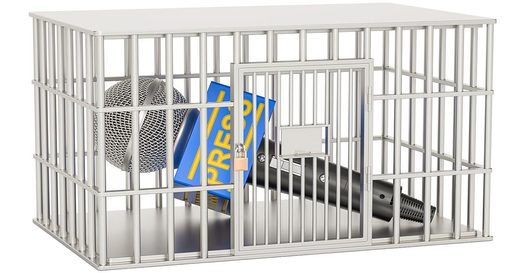 Journalists who attempt to interview students on a college campus are now at risk of getting arrested and detained for trespassing.
According to
a recent analysis by the
Columbia Journalism Review
, multiple journalists have been detained this year simply for asking students questions on campus.
One such confrontation took place in August of this year, when freelance journalist Jeff Bachner was handcuffed by a security officer at Kingsborough Community College in Brooklyn, before being released with no charge.
Just a few days later, the report details another detention of a freelance journalist who attempted to ask students questions about Confederate statues on campus. In that case, J.B. Nicholas was handcuffed by Bronx Community College security for trespassing, though charges against him were ultimately dropped.
The author of the report, Max Zahn, even detailed his own confrontation with authorities for trying to do a follow-up article on the same topic.
"In October, I was escorted off the same campus, Bronx Community College, by campus police on consecutive days after trying to speak to students for a follow-up story about the statues," he explains.
According to the publication, both colleges are a part of City University of New York (CUNY) system with over 270,000 total students, and neither has a publicly available media access protocol.
The report further details other instances of questionable behavior from college administrators, including a poster that specifically targeted four journalists and barred them from attending an event at the University of Colorado at Boulder.
"At the college level these are adults, not children anymore," attorney Michael Hiestad told the publication. "It's putting a weird bubble around students that says, 'we'll protect you from reporters who want to ask questions.'"
While a spokesman for the University of Colorado at Boulder described the sign barring reporters as "inappropriate," the director of communications at Bronx Community College told the
Review
that reporters "don't just have free rein."
"We don't want reporters on campus bugging people as they go about their day," the official said. "If we have any media on campus, they call ahead and we set it up."
Adam Steinbaugh, a Senior Program Officer at the Foundation for Individual Rights in Education, told
Campus Reform
that the incidents described in the report "are extremely concerning" and that campuses "should be public forums and open to journalists' inquiries."
"Detaining journalists simply for doing their jobs threatens the First Amendment and hinders the ability of students and faculty to share their perspective with the broader community," he added.
"When authorities impede students, faculty, and journalists from gathering or sharing information, we should be skeptical of any proffered justification."
UPDATE:
A spokesperson for Kingsborough Community College told
Campus Reform
that "the incident in regards to the news reporter was investigated by CUNY" and that the conduct of the KCC Public Safety Department was found to be "consistent with CUNY and KCC policies."
"The policy concerning access to the campus is: A valid KCC ID is required to access the campus and must be furnished upon request," the official said. " All other visitors to campus must check in at the Public Safety entry booth and must provide ID upon request. Signage is posted at both entry gates."