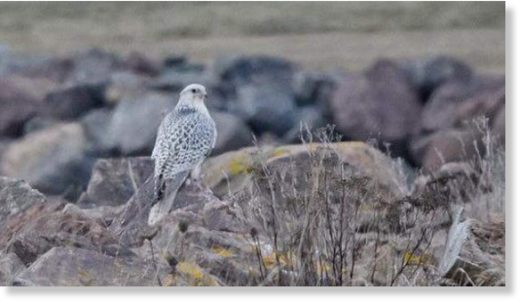 A women from Bouctouche got the sighting of a lifetime this week after spotting the largest known falcon in the world.
Nora Hebert found a white morph gyrfalcon at Caissie Cape Wharf near Grande-Digue on Monday.
"He was right beside the road eating his lunch," said Hebert.
She said the bird was spooked when she got out her car, but she was able to snap a few pictures before it flew away.
"Oh my God, I have to get a picture of him," said Hebert, telling the tale to Information Morning Moncton.
The white morph gyrfalcon is a bird with shades of white, gray and dark brown. Their bodies are thick and their tail is long. Females are typically larger than males.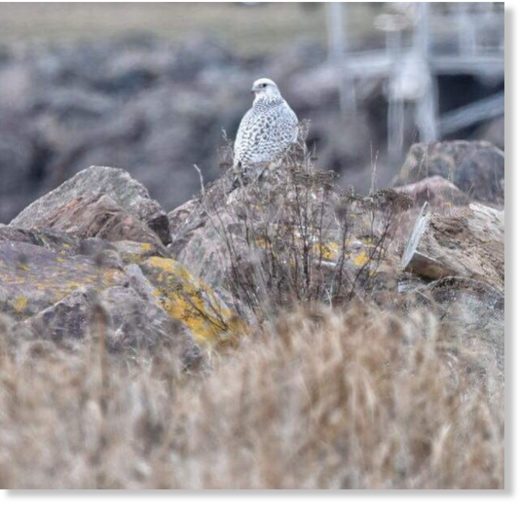 A rarely sighted bird
According to bird expert Alain Clavette,
the white morph gyrfalcon is native to the high arctic.
"It is one of the top predators up there," he said.
Clavette said it's totally normal for this majestic creature to migrate late in the year. It hunts other birds, like seagulls and ducks.
He said while the bird is not rare, it is rarely sighted. He said Hebert likely spooked it out of seagull dinner after having mistaken it for the Snowy Owl she thought she saw. It would have been better for Hebert to stay inside her vehicle, he said.
Clavette said New Brunswickers spot about one white morph gyrfalcon a year.
A white morph gyrfalcon was spotted last year in Eel River Bar. The bird had been feeding on a duck when it was found.
Clavette said he found a chocolate coloured one about 17 years ago in Memramcook Valley near Dorchester. He said gray ones are sighted more often.
But for him, the white morph gyrfalcon is special.
"The white one, to me, is the most mystical one," Clavette told CBC News.