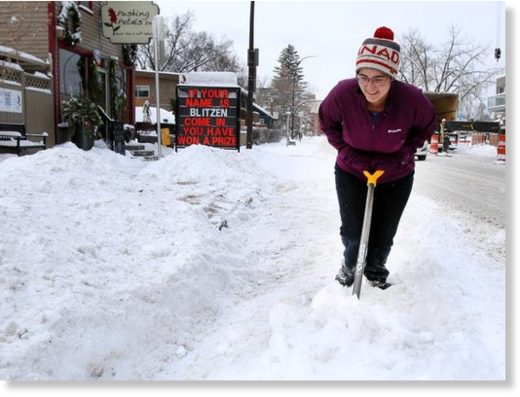 As much as 31 centimetres of snow fell across Calgary since Tuesday afternoon,
creating commuter headaches and leaving roads and sidewalks dangerously icy.
Data released by Environment Canada indicate southern portions of the city bore the heaviest brunt of the storm, receiving almost twice as much snow as Calgary's northern areas before it tapered off late Wednesday morning.
The storm also broke the day's previous snowfall record of 11.7 cm set in 1953.
Calgary's snowfall was part of a larger system that blanketed much of southwestern Alberta in snow, with the hamlet of Beaver Mines west of Pincher Creek getting as much as 60 cm of precipitation.
The nearby Castle Mountain Ski Resort saw 40 cm, while Okotoks just south of the city got 35 cm.
The snow also triggered a number of crashes in and around Calgary, including two fatalities.
Police suspect speed was a factor in a deadly Tuesday afternoon crash on Stoney Trail near 88th Street S.E. at 4:30 p.m., which claimed the life of a 19-year-old man.
Losing control on the icy roads, the car fishtailed and slammed into a roadside structural support.
The car's other three occupants escaped with only minor injuries.
EMS spokesman Stuart Brideaux said a woman died in a single-vehicle crash about an hour earlier in the southbound lanes of the QEII Highway near Crossfield.
A second female occupant of the car was transported to Foothills Hospital in stable condition.
Calgary police attended 227 crashes between midnight and 5 p.m. Tuesday — the vast majority resulting in minor injuries at the most.
City crews spent the overnight hours into the morning tending to high-volume routes, and snow-clearing efforts will continue into Thursday.
Anti-icing material was applied to selected roads prior to the snowfall to help prevent snow from sticking. The city said crews planned to lay down 97,000 litres of beet juice.
Calgary Transit said some buses were moving slower than usual, including a number of detours, as traffic slowed in the morning. No bus routes have been cancelled.