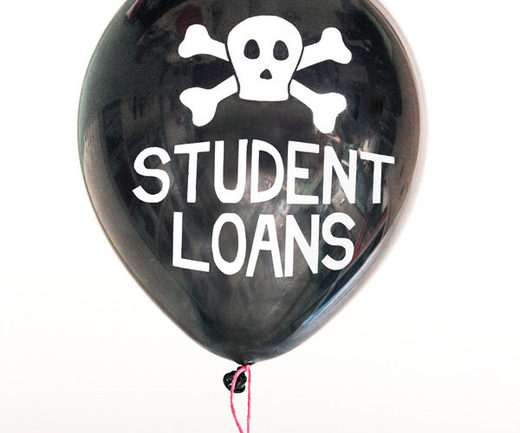 Student loan defaults hit nearly five million in the third quarter, a doubling from four years ago,
The Wall Street Journal reported
, or about 13 percent of outstanding loans.
While the overall U.S. economy has enjoyed steady growth and notched its quickest pace in three years, according to
Reuters
, there has been a
sharp decline in payments made towards federal student loans among those leaving schools in the past three years.
Data released by the Education Department shows that the number of students who have not made payment in the last year has grown by nearly 274,000 in the third quarter alone, the Journal said.
The statistics mark a reversal of half a decade's worth of decline in new defaults, with 580,671 reported defaults among the five million people from 6,173 schools who began repaying their student loans in Oct. 2013,
The Washington Post
said.
The Journal said that by the end of the quarter defaulted student loans totaled $84 billion - which is around 13 percent of the reported $631 billion required to be paid back.
"Despite a booming stock market and unemployment falling, student loan borrowers are struggling,"
said Rohit Chopra, a senior fellow at the Consumer Federation of America and a former student loan ombudsman at the Consumer Financial Protection Bureau, per
CNBC News
.
Comment:
A booming stock market and falling unemployment rates are not indicators that student will do well with their loans. Most coming fresh out of college are lucky to get a job at McDonalds or god-forbid,
Amazon
. Degrees are
practically useless
when it comes to getting well-paying jobs that allow them to pay off the loan.
He pointed out that those who have defaulted on their student loans "are going to have a tougher time passing an employment verification check, saving for retirement or ever buying a home."
Tom Knickerbocker, Executive Vice President at Ameritech Financial, said there is no reason for anyone to intentionally default on federal student loans.
Comment:
With the crushing debt some students incur, many feel they have no choice but to default. Or turn to more
desperate
measures
to try and pay it off.
"Instead, borrowers should do everything they can to avoid defaulting for the good of their financial future," he said, per
Markets Insider
.
Some have argued that consumer protection is needed.
"Now is the time to be improving student loan policies and increasing oversight and accountability," said Pauline Abernathy, executive vice president of the Institute for College Access and Success, according to CNBC.
"But the department is doing the opposite. The rollback of critical protections and enforcement will only lead to more student loan defaults, higher debt burdens, and wasted taxpayer dollars."