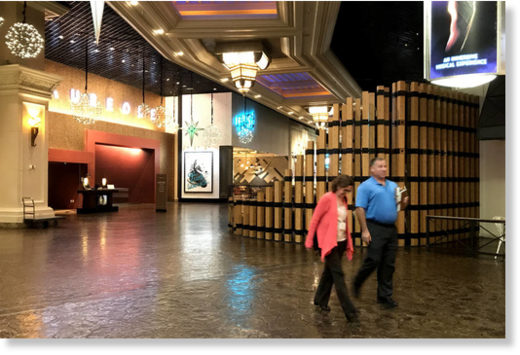 Around dusk on a late November weekday, hundreds of people walked through Mandalay Bay, past empty restaurants just off the casino floor and toward the huge convention center.
Employees of CarMax, the nation's largest used-car dealer, had gathered here from around the U.S. to attend the company's annual President's Club gala, an award ceremony to recognize top talent.
Roughly 4,500 people filled the convention center to eat, dance and hobnob with CarMax senior management. Many employees stayed at the hotel.
"It's a business trip. We didn't choose the Mandalay Bay. It was already chosen for us since last year," said CarMax employee Felicia Green.
Visiting from Fayetteville, North Carolina, Green said she wouldn't have stayed at the Mandalay Bay if she'd had a choice. The Oct. 1 mass shooting that occurred at the hotel was still too fresh in her mind. On that late October Sunday night, a VIP guest staying on the 32nd floor blackened the image of Mandalay Bay when he smashed his room windows to spray gunfire on thousands of concertgoers across Las Vegas Boulevard, killing 58 people.
Comment:
Of course the
Sheldon Adelson
-owned
Las Vegas Review-Journal
where this story was published would begin by hammering us with the official narrative - which has, by now, been thoroughly debunked by SOTT.net and many other sites and observers who maintain the basic ability to question "the news". See:
The shooting raised questions about how the 3,211-room hotel would weather the stigma of the mass shooting. Would people want to gamble, party and sleep where one of the worst mass murderers in American history carried out his crimes?
For Jayson Baboolal, a leisure tourist, the answer is not now.
Visiting Las Vegas from Miami, Baboolal said he would "probably" stay at the
Mandalay Bay
at some point in the future, but for this trip he chose to stay at New York-New York.
"So many people died there (at the Las Vegas Village festival grounds, across from Mandalay Bay)," he said. "You just get the chills going in there."
Financial impact
MGM Resorts
International Chief Executive Officer Jim Murren said Nov. 8 that bookings were returning to normal and forecast the casino operator's Strip-wide revenue would be down only in the low to mid-single digits during the fourth quarter compared with that of the year-earlier period. That would suggest as much as a $65 million drop in Strip revenue. His forecast did not address direct financial impact on
Mandalay Bay.
But the number of cancellations doubled immediately. Restaurateurs felt short-term pain, gamblers on the casino floor thinned out and hotel employees' hours were eventually cut.
A repeat visitor commenting on TripAdvisor, a popular travel website, observed in early November
that the hotel was "painfully slow."
Spokeswoman Debra DeShong said the lower activity at Mandalay Bay is driven by seasonality and the fact that there is one fewer conference this month. She declined to give specific occupancy data for Mandalay Bay, citing regulatory requirements for publicly traded companies.
"As we've indicated previously, we expected occupancy at Mandalay Bay to be lower this December due to the timing of a rotating convention that was held last year."
John DeCree, an analyst at Union Gaming, thinks the slowdown will be short-lived and limited mainly to vacationers.
"I think any near-term impact would be on leisure customers, who can be more flexible," he said. "Vegas is still a great value for group and meeting planners, and Mandalay is one of the best hotels for meetings."
The October visitation numbers support that thesis. Las Vegas tourism was down for October, with visitation falling 4.2 percent to 3.6 million tourists. It was the second steepest year-over-year drop of 2017 recorded by the Las Vegas Convention and Visitors Authority. Business tourism, though, jumped 35 percent amid more conventions.
The rest of the article may be read
here
.