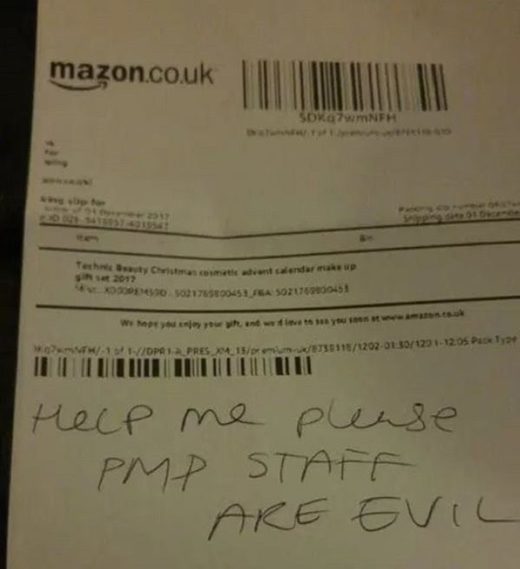 A mum has claimed her 13-year-old daughter discovered a "help me" note hidden inside an Amazon delivery branding bosses "evil".
Kim Dorsett said her daughter April found the words scribbled on an invoice inside a £30 make up advent calendar her dad had ordered for her.
The note said: "Help me please, PMP staff are evil."
PMP are a recruitment agency used by Amazon to fill jobs at distribution centres, the
Mirror
reports.
Kim, from Bolton, Greater Manchester, said: "I want to know if it's a prank or if they have people in sweatshops.
"My other half ordered the calendar as a present. He ordered a note in it saying 'love from mum and dad'.
"We asked April 'have you read the note?' and she said 'do you mean this one?'
"That's when we saw it. I thought 'this isn't right'. Then I thought it must be a prank and I was overreacting, but then people pointed out all the stories about Amazon lately."
Comment:
The note was prank-like but considering the poor working conditions in Amazon warehouses, it was surely guided by a sense of desperation.
PMP and Amazon are investigating the incident after the family flagged it up to the online delivery giant.
Kim explained: "My daughter was worried. She is a vegan and she likes to know people and animals are OK.
"This is quite worrying. It's the sort of thing you hear about happening in sweatshops in China."
It comes after a
Mirror
investigation
claimed Amazon employees were so tired of their long working conditions they were falling asleep on their feet
.
Other claims included workers having just nine seconds to process a package and some employees alleging they have timed toilet breaks.