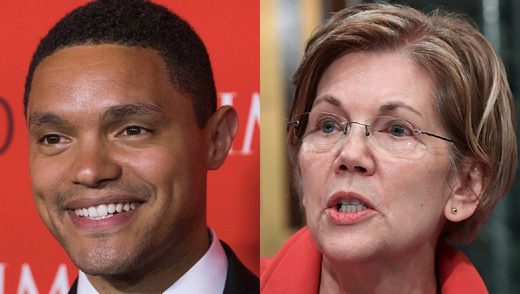 "Daily Show" host Trevor Noah on Tuesday criticized Sen. Elizabeth Warren for claiming to be of Native American heritage, which he acknowledged is "problematic."
The controversy over the Massachusetts Democratic's heritage was resurrected this week after
Trump brought back his "Pocahontas" nickname
for her during a White House ceremony honoring Navajo code talkers. Warren
slammed
Trump for his comments, calling him "truly disgusting" and saying he'd used a "racial slur."
Warren for years claimed to be part Native American and was touted as a minority faculty member by Harvard University, yet the New England Genealogical Society said it had found no Native American lineage in her background.
The issue became a topic of mirth during her campaign for the Senate in 2012, though Noah pointed out it's something she has "never apologized for or owned up to."
Noah brought up Warren's contributions to a recipe book called "Pow Wow Chow."
"That would be like finding out I'm completely white, I have no African blood, and yet I wrote the book 'Snacks For Blacks,'" he said.
Noah said that while Trump is "racially offensive" himself, he was actually right in calling Warren out.