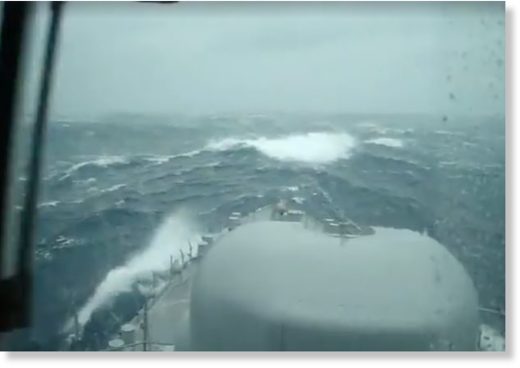 A horrific storm has thwarted emergency efforts to find an Argentine navy submarine missing in the South Atlantic with 44 crew members.
Footage from a search boat showed horrendous sea conditions as waves eight metres in height crashed over the deck.

Winds of 90km have been battering the vessel for three days, according to reports.
The defence ministry said the
ARA San Juan
appeared to try to make contact through seven failed satellite calls on Saturday between late morning and early afternoon.
The vessel was 432 km (268 miles) off Argentina's coast when its location was last known early on Wednesday.
And as the storm complicated desperate search efforts, authorities spent Sunday trying to trace the submarine's location through data from the satellite calls without significant progress.
"We analysed these signals, which as we know were intermittent and weak," said Gabriel Galeazzi, a naval commander.
"They could not help determine a point on the map to help the search."
US satellite communications company Iridium Communications Inc, which was brought in to help analyse the calls, said they did not originate with its device aboard the vessel and may have been from another satellite communications company's equipment.
It said the last call it detected from its device was on Wednesday, the same day the government said the vessel vanished.
More than a dozen boats and aircraft from Argentina, the United States, Britain, Chile and Brazil had joined the effort.
Authorities have mainly been scanning the sea from above as the storm made the search difficult for boats, navy Admiral Gabriel Gonzalez told reporters.
"Unfortunately these conditions are expected to remain for the next 48 hours," Gonzalez said from the Mar del Plata naval base, about 420 km (240 miles) south of Buenos Aires where the submarine had been heading toward before vanishing.
The
ARA San Juan
was inaugurated in 1983, making it the newest of the three submarines in the navy's fleet.
Built in Germany, it underwent maintenance in 2008 in Argentina. That maintenance included the replacement of its four diesel engines and its electric propeller engines, according to specialist publication
Jane's Sentinel
.