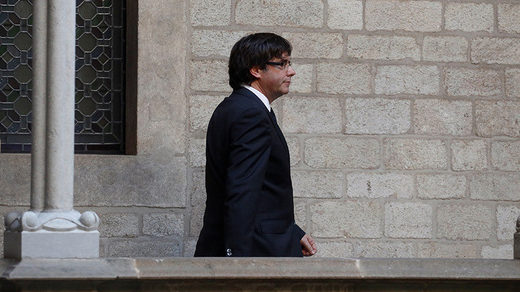 Carles Puigdemont, the deposed leader of Catalonia who fought hard for the region to break free from Spain, now says he is willing to accept a new relationship with Madrid which does not involve independence.
Speaking to Belgian
newspaper
Le Soir, Puigdemont said that "another solution which isn't independence is possible." He added that he is willing to "accept the reality of another relationship with Spain."
Puigdemont acknowledged that he remains pro-independence and worked to achieve that goal for Catalonia for years. However, he said "the arrival of [José María] Aznar to power stopped that process." Aznar, a People's Party (PP) politician, was the prime minister of Spain from 1996 to 2004.
"The PP is responsible for this pro-independence resurgence," Puigdemont said, referencing an incident in 2006 when the party led a legal challenge against a new Catalan Statute of Autonomy which had been approved by the Spanish parliament and ratified by voters in Catalonia in a referendum.
The situation prompted four years of deliberation, leading to Spain's Constitutional Court ultimately declaring in 2010 that large parts of the statute were unconstitutional or inapplicable. The move, which is largely seen a major moment in Catalonia's push towards independence, sparked major protests in Barcelona at the time.
Puigdemont has been
charged with sedition and rebellion by Madrid,
for his role in Catalonia's push for independence and the October referendum held by the region. Although the region declared independence from Spain on October 27, that decision was not recognized by Madrid, which dubbed the referendum illegal and void. Within minutes, the Spanish Senate voted to allow Madrid to restore rule over the region.
The deposed leader is
currently in self-imposed exile in Brussels, after he and four other former Catalan officials handed themselves over to Belgian police on November 5.
A judge released the five men following a hearing that lasted more than 10 hours, on condition that they do not leave the country and stay at a fixed address.
Puigdemont and the other four leaders could be extradited to Spain as part of an EU-wide arrest warrant issued by Spain. They will appear in court on November 17, when a judge will decide on whether to execute the warrant.