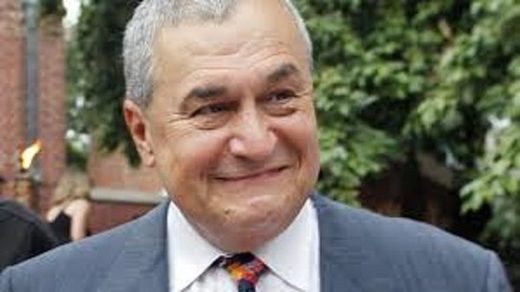 Democratic power lobbyist Tony Podesta, founder of the Podesta Group, announced he is stepping down from the firm that he and his brother John founded, after learning he is a central figure in the wide investigation by special counsel Robert Mueller.
Podesta's decision to leave the firm came on the same day that former Trump campaign aides Paul Manafort and Rick Gates were indicted on multiple charges, including money laundering, operating as federal agents of the Ukrainian government, failing to disclose overseas bank accounts and making false statements to federal authorities.
The investigation into Tony Podesta and his firm mushroomed out of Mueller's examination of Manafort's finances.
Manafort organized a PR campaign on behalf of a nonprofit called the European Centre for a Modern Ukraine, with the Podesta Group playing a central role in the lobbying efforts, and paid handsomely by Manafort to do work on the PR campaign to promote Ukraine to DC lawmakers.
Immediately after leaving the Podesta group, and fearing that an indictment may be just around the corner, Tony Podesta was spotted meeting with Hillary Clinton and Sid Blumenthal this past weekend.
It appears that the Clinton mafia is making moves, and closing ranks.
Via
The Gateway Pundit
...
Are we supposed to pretend Deep State activists did not leak information to Hillary Clinton about the Monday indictments that pertained to the Podesta group?... The same Democratic Special Counsel that leaked several reports to the liberal media all year long?

Hillary Clinton met with Tony Podesta and Sid Blumenthal this past weekend before the Monday indictment of Paul Manafort and Rick Gates that mentions the Podesta Group run by Tony Podesta.

Tony Podesta lobbied Uranium One while Hillary Clinton was Secretary of State!
Breitbart.com
reports Hillary met with Tony Podesta this weekend...
Former Secretary of State and two-time losing Democrat candidate for President Hillary Clinton was spotted meeting this weekend with figures who feature prominently in an investigation into corruption, spearheaded by special counsel Robert Mueller.

Tony Podesta and Sidney Blumenthal both appeared at Clinton's 70th birthday party held at Elizabeth Frawley Bagley's house in Washington, DC, on Sunday, Politico reported. Podesta's appearance is uncomfortable for Clinton because he and his brother, Clinton campaign chief John Podesta, are currently a focus of Mueller's corruption investigation with their political consultancy business, the Podesta Group.

The Podesta Group came under the microscope for working with lobbyist Paul Manafort who Mueller indicted on Monday for tax evasion and other charges. Long before he joined Trump's campaign, in 2012, Manafort worked with the Podestas to lobby Congress on behalf of Ukraine's bid to join the European Union.

Only hours after news of Mueller's indictment of Manafort broke, Tony Podesta announced that he was stepping down from the firm that bears his name.