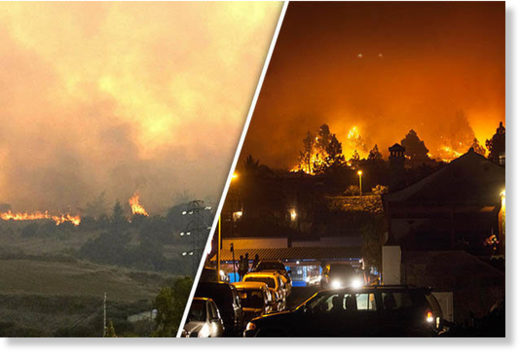 More than 300 firefighters have been battling the infernos overnight on the Spanish island in the Canaries, which is popular with British tourists.
As of 8am this morning, officials said the fire was "neither controlled or stabilised" with at least 800 people being ordered to leave their homes.
Footage taken from the region shows one firefighter surrounded by flames as he desperately tries to dampen them with hoses.
The blaze has already ravaged 2,000 hectares, having been fanned by strong wind and the dry conditions.
Manchester City star David Silva - who comes from Gran Canaria - has taken to Twitter to express his sadness.
"A lot of strength to the devices that are trying to extinguish the fire on my island," he said.
"Things like that should never happen! I encourage people."
No injuries have been reported so far, with the fire raging away from the main tourist areas.
Anyone living in the districts of Cruz, Lagunetas, Cueva Grande and Caletars have been asked to leave immediately.
A level two emergency has been declared and pumes of black smoke continue to cover the sky.