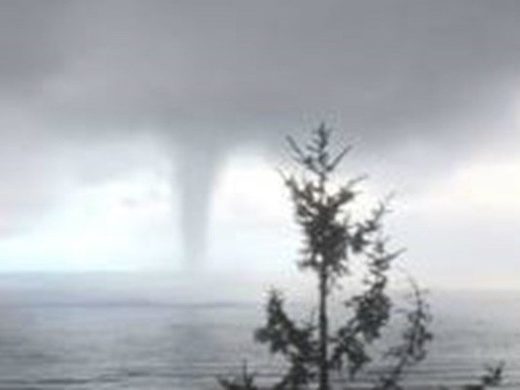 As a strong storm traveled up the Oregon coast and into Washington Monday, two videos of what appear to be waterspouts were seen from Netarts and Astoria.
Richard Kittner shared
video of the waterspout
near Netarts, taken Monday morning.
On Monday afternoon, John Morrell took video of what appeared to be a waterspout or a tornado off the coast of Astoria.
Waterspouts are tornadoes that form over water, or form on land but travel to water.
Faylene Taylor spotted a funnel cloud above the Youngs Bay Bridge, between Astoria and Warrenton, while driving home, Monday afternoon.
"I've lived in Chicago and Kansas so I automatically knew what it was," said Taylor. "I freaked out and sped up to get to the house."
Dida De Angelis was at home watching TV, when she heard the emergency alert. She looked outside her window and saw the funnel cloud, amidst what she described as a quiet stillness.
"It was like it was all getting sucked up into that cloud," said De Angelis. "It was pretty ominous."
The National Weather Service issued a brief tornado warning Monday afternoon near Ilwaco, Wash. and Hammond, Ore. Hail was reported along the coast region as the storm moved through.
The warning expired at 4:15 p.m. There were no immediate reports of damage.