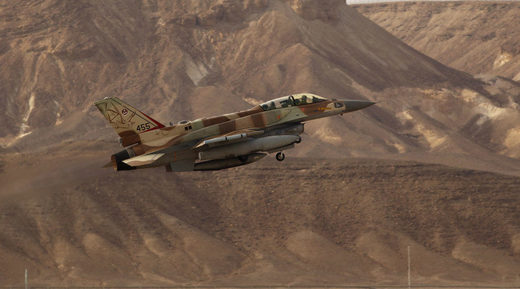 Israeli planes have reportedly fired two missiles which hit near Damascus, targeting an ammunition facility belonging to Lebanon's Hezbollah, according to a Lebanese TV station citing "informed" sources and various social media reports on pro-Syrian webpages.
Israeli forces are reported to have carried out attacks from outside the Syrian border early on Friday, according to the Lebanese
Al Mayadeen
. It said the strike led to a fire, with no casualties or disruptions at Damascus International Airport reported.
Pictures allegedly showing the moment of the attack have emerged online on Arab and Hebrew-language social media.
According to Israeli media reports, there were three separate strikes.
Meanwhile, footage that reportedly captured Syria's air defense forces responding to the strike was uploaded on Facebook.
The air defense forces are said to have shot down one of the missiles.

An Israeli military spokeswoman refused to comment, saying the military does "not respond to such reports."
The Syrian authorities and Hezbollah are yet to confirm the attack.
Earlier this month, Damascus reported an Israeli plane launching several projectiles. The missiles targeted Syrian Army positions near the city of Masyaf in Hama province, killing two servicemen, according to the Syrian general command.
Israeli forces have targeted arms convoys of the Syrian military and Hezbollah, Israel's Lebanon-based adversary, about 100 times over the past five years.
In April, a similar incident occurred when the Israeli Defense Forces (IDF) hit near Damascus airport, targeting a weapons depot of the Tehran-backed Hezbollah. Although the IDF declined to comment, Israeli Intelligence Minister Yisrael Katz said the incident corresponded "completely with Israel's policy to act to prevent Iran's smuggling of advanced weapons via Syria to Hezbollah in Iran."