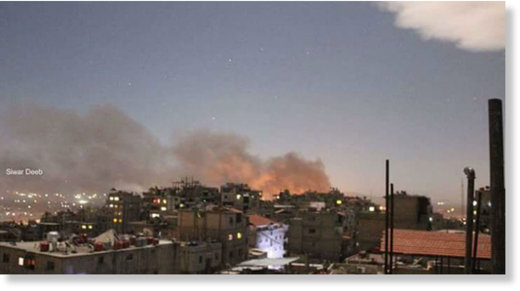 A Mezzah military air facility was struck by several explosions near the Syrian capital of Damascus. Israeli warplanes directed fire at an ammunitions hub, producing an enormous explosion, according to Syrian state TV.
"Rockets strike at Mezzeh Military airport in Damascus minutes ago," Hadi al-Bahra, former president of the National Coalition of Syrian Revolution and Opposition Forces said on Twitter in the early hours of Friday, posting pictures of the explosions. The blasts were reportedly caused by heavy bombing conducted by Israel, local activists and journalists reported on Twitter.
The airport is a major strategic asset used by Syrian elites, military officials and troops as a transit complex.
​The army said several missiles were fired at the Mezzeh airport's compounds from the Lake Tiberias area in northern Israel at about 12am Friday. The strike reportedly damaged one of the compounds of the crucial military facility.
The Mezzeh airport is located west of Damascus, just 5 kilometers from the Presidential Palace, the official residence of Syrian President Bashar Assad.


The Syrian government also used the airport as a military outpost to launch artillery shells at former rebel-held areas in the suburbs of Damascus.
​The death toll from the attacks has yet to be determined, according to a journalist on the ground. The airstrikes "may have taken out Syrian commanders," according to Georgetown Center for Security Studies' John Arterbury.
Syrian state TV says that the Israeli military conducted the airstrike. The Israeli military declined comment.
Earlier in the day, a suicide bomber
killed seven people
and left many more wounded.
This is the second time in two months the Israeli Defense Force (IDF) has being accused by the Syrian government of targeting Syrian positions from Israeli territory.
On December 7, SANA reported that
"several surface-to-surface missiles"
were launched by the IDF from the Golan Heights. At the time, the source in the Syrian armed forces
slammed
the attack as a "desperate attempt" by Israel to endorse terrorists.