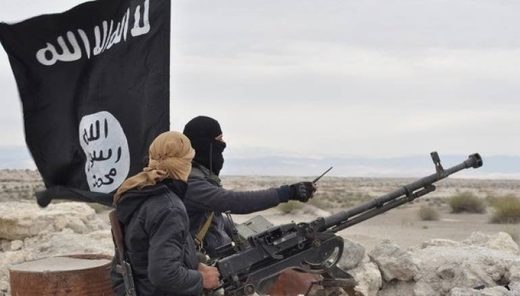 Moments ago, Islamic State commanders reached an agreement with the Syrian Arab Army (SAA) to evacuate all their fighters from the last stretch of ISIS-held territory in Hama province.
According to Al-Masdar News correspondent Ibrahim Joudeh, jihadist militants have already begun to leave the villages and towns of Soha, Abu Hubailat, Akash, Al-Barghouthyah and Umm Mil, all located along the M-45 highway in the southeastern countryside of Hama.
The military source added that around 1,000 ISIS militants and family members were to be transferred from Hama to Deir Ezzor in a deal signed by the SAA on Thursday evening.
The evacuation is expected to reach a conclusion before the end of the week, Ibrahim Joudeh added. The ISIS-held villages in central Homs are also expected to be handed over shortly.
Senior Al-Nusra Commander Killed in Northern Hama
Maher Alu Abu Al-Abbas, field commander of Al-Nusra Front, was killed in tough battle with the Syrian army in Northern Hama, the websites close to the terrorist groups reported.
Abu Al-Abbas has participated in battles against the Syrian army in Aleppo and Idlib cities.
The news comes as the Al-Nusra Front and other terrorist groups have launched massive attacks against the Syrian army which have so far resulted in the death and injury of at least 850 terrorists, including several senior commanders.
In a relevant development on Wednesday, the Syrian Army troops repelled a heavy offensive by the Al-Nusra Front and some other terrorist groups in Northern Hama on Wednesday, killing a number of terrorists, including a notorious field commander.
Abu Rashid Tizin, the field commander of al-Turkistani Islamic Party, was killed in clashes with the army men in Northern Hama.
The army men clashed fiercely with Al-Nusra and other terrorist groups in several regions in al-Talisiyeh, Tal (hill) Sowda and al-Qaherah regions in Northern Hama.
In the meantime, the Syrian Air Force and the army's artillery units targeted the positions and supply lines of the terrorists from Atshan to al-Habit and Tal al-Sayyad between the provinces of Hama and Idlib and in the depth of terrorist-held regions, destroying their command centers and arms depots.
A military source said that heavy fighting is underway in the region and the terrorist groups have thus far suffered major losses in their failed attacks.
Relevant reports said on Monday that the army soldiers continued to hit ISIL terrorists trapped in a region in Eastern Hama and Northeastern Homs and captured the village of Abu Hanaya East of the village of Qalib al-Thor.
In the meantime, the Syrian and Russian fighter jets and the army's artillery targeted ISIL's positions in the village of Abu Hanaya, al-Hardaneh and Abu Habilat in Northern Hama, killing tens of terrorists.