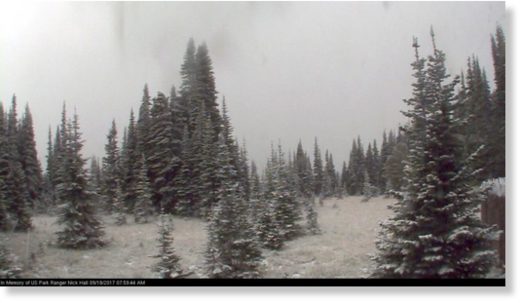 There wasn't much of a transitional period between Western Washington's dry summer weather and the inevitable wet fall and winter many of us dread.
After enjoying temperatures in the mid-to-high 70s Saturday, things cooled off Sunday and the rain returned.
Within three hours on Sunday, it rained five times as much in Seattle as it had between July through the first half of September.
By early Monday morning, it was snowing in the mountains.
"FIRST SNOW AT STEVENS PASS! September 18th, 2017!" a message on the
Stevens Pass Mountain Resort Facebook page read.
Snow levels in the Cascades and Olympics are expected to drop to between 5,000 and 6,000 feet over the next few days.

A Winter Storm Watch was issued for the Cascades of Pierce and Lewis counties, according to the National Weather Service. Snow accumulations of up to 14 inches are possible; though just a few inches total is likely. The heaviest snow is expected to fall Monday night
. The storm watch remains in effect until Tuesday morning.
"The main threat for significant accumulating snow over the next couple of days would be at Paradise ," the National Weather Service wrote.
The winter-like weather isn't expected to stick around long, as things dry out around Friday.