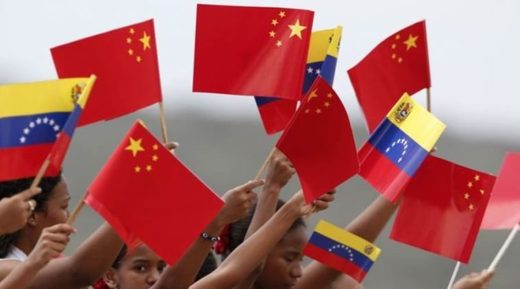 China walks through the doors the US has left wide ope
n.
In economic warfare, like in traditional battle, one's weapons are only as powerful as the shields which they are up against. This simple concept has not yet sunk in among the powers that be at the US Department of the Treasury. Donald Trump's Treasury Secretary Steven Mnuchin has been extremely zealous in passing new unilateral sanctions on the governments, individual politicians and businesses in Iran and Venezuela in particular, as well as in North Korea.
But none of this is working because the US financial system and the US Dollar is no longer the only major game in town on the international markets.
Venezuela has, after many years of discussion, finally agreed to cease trading its vast oil reserves in the US Dollar.
Venezuela recently announced that it is now
pricing its oil in Chinese Yuan
.
This comes weeks after China announced that it will allow for the trading of oil contracts in Yuan which can be easily converted to gold at the exchanges in Shanghai and Hong Kong.
The recent BRICS summit in China, put an increased emphasis on monetary independence among member states, which is of course a not so coded phrase meaning 'let's ditch the US Dollar'.
Already, many Asian and Eurasian countries have begun bilateral trade in local currencies and both China and Russia have expressed interest in creating new currencies for trade throughout not only the BRICS bloc but among the wider partners of BRICS, in what is known as the BRICS + format.
Additionally, Russia and China have expressed an interest in creating a BRICS crypto-currency which if backed by the powerful member states of the bloc, could result in an inter-continental exchange model that could be Dollar free for both small retailers and for sovereign trading partners.
It has also been announced that the China's firm CITIC has opened a credit line with Iran which will be worth the equivalent of
$10 billion
. The credit line will operate in Yuan and Euros, entirely bypassing the Dollar.
China's investments in Iran which is an important One Belt-One Road partner for Beijing are complemented by smaller though still significant investment inflows from European companies. While the EU tends to be a rubber stamp on US policy, when it comes to Iran, much of Europe is far less cynical than the United States.
All of this has an aggregate effect of the US voluntarily pricing itself out of growing markets.
The growing markets themselves have not felt the sting of sanctions due to a combination of self-sufficiency that the US tends to discard as the US is increasingly a non-self reliant nation, in addition to the overriding fact that China can now providing growing economies with all of the capital they need and can do so on terms that are generally far more generous than those which could have been offered by the US.
In spite of Donald Trump's
comical Tweets
, the North Korea economy is also
growing
and much of this is fuelled by internal projects. To this end, North Korea's proven oil reserves and even its ability to extract and refine this oil is far greater than the US Treasury Department seems to imply.
It is no wonder therefore that Russia, while expanding its
economic ties with South Korea
, has also expressed a desire to begin tripartite economic initiatives with both Seoul and Pyongyang. Not only does this make economic sense, but it utilises economic enrichment as a more proven way to de-escalate diplomatic and military tensions than sanctions have ever accomplished.
In reality, sanctions have never accomplished anything apart from increasing international tensions with the disastrous added effect of often starving civilian populations of food, medicine and basic amenities.
By contrast, economic investment has been a proven way to create contented countries which by definition are more at peace with the wider world than those being lectured to and starved.
Now though, the American ability to starve countries is limited by the fact that China is ready, willing and able to capitalise on any door the US leaves wide open for Beijing. This is already the case with Venezuela and Iran. It is only a matter of time and a few likely Russian authored de-escalation agreements before North Korea also joins the club.