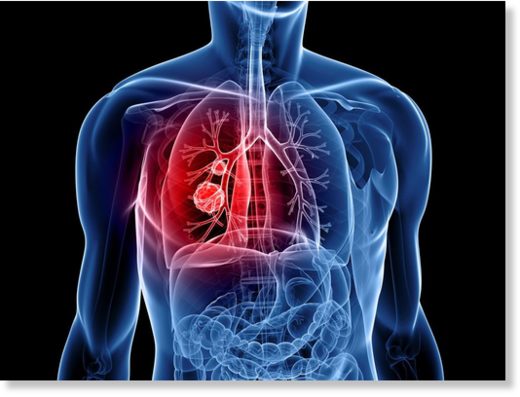 The annual frequency of never-smokers developing lung cancer in Britain has more than doubled over the last seven years, from 13 percent to 28 percent, according to a study set to run in the October edition of the
European Journal of Cancer.
The researchers note that most of these cancers turned up in patients presenting with non-specific symptoms and were detected on incidental imaging, "a modality that is likely to play an increasingly important role for early detection in this cohort that does not have any observable clinical risk factors."
Maria Elena Cufari, MBBS, and colleagues at London-based Royal Brompton & Harefield NHS Foundation Trust, the largest-volume provider of lung-cancer surgery in the U.K., retrospectively analyzed data from a prospectively collected database of 2,170 patients who underwent surgery there between March 2008 and November 2014.
Defining frequency as number of never-smokers versus current and ex-smokers by year, and collating clinical features at presentation, they found a total of 436 (20 percent) patients were never-smokers. The patients' mean age was 60 years, and 67 percent were female.
Presenting features were non-specific consisting of cough in 34 percent, chest infections in 18 percent and hemoptysis (coughing up blood) in 11 percent.
A total of 14 percent were detected on incidental chest film, 30 percent on CT, 7 percent on PET/CT and 1 percent on MRI.
The 15-percentage-point jump was attributable to "an absolute increase in numbers and not simply a change in the ratio of never-smokers to current and ex-smokers," Cufari and colleagues report.
No single underlying cause
In their discussion, Cufari and team underscore their finding that the majority of lung cancers in the never-smokers were incidental diagnoses.
They consider several hypotheses that have been advanced to explain the surge in never-smoker lung cancers. No single etiological cause, such as environmental pollution, has been identified, they note
.
The World Health Organization recognizes radon and household air pollution as carcinogens
, they add. "[H]owever, our results could not demonstrate any differential effects between smokers and non-smokers."
"It is pertinent to note that most of [our] never-smokers are female," they write. "[I]f there was an environmental stimulus or trigger, why do not we see a corresponding increase in never-smoking lung cancer in men?"
Regardless, most of the confounding lung cancers were found on imaging during cardiology follow-up or surveillance imaging for other previous cancer, they write, stating this points to the importance of the role of imaging for early detection in never-smokers.
"There needs to be a paradigm shift in our thinking as we often rationalize investigations based on the probability of disease,"
Cufari et al. write. "In this case, there are no identified risk factors to increase prior probability and, consequently, the only way to increase detection is to lower the clinical threshold for investigating symptomatic never-smokers."