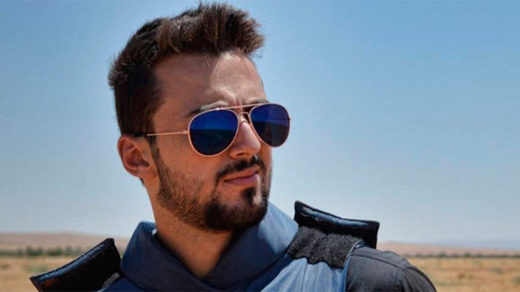 A journalist working with RT Arabic, Khaled Alkhateb, has been killed in shelling from Islamic State (IS, formerly ISIS/ISIL) side in the eastern suburb of Homs, Syria.
The journalist was filming a report on the Syrian Army's operations against IS terrorists.
He and a Syrian Army official, who has not been identified yet, were killed in a rocket attack by Islamic State militants near a village called Bghailiyah, in Homs province, according to the head of RT Arabic's office in Damascus, Abdelhameed Tawfiq.
Khaled Alkhateb was just 25 years old and had recently started to work with RT.
"Today RT Arabic lost a young colleague, journalist Khaled Alkhateb. This is very painful news for all of us," the head of RT Arabic, Maya Manna, said in a statement.
Saying that Khaled had just recently become a stringer for RT Arabic, Manna added that he had been on assignment to cover the Syrian Army fighting IS in the Homs region.
"This morning, together with soldiers of the Syrian Army, he was heading to the town of al-Sukhnah, where heavy fighting is currently underway to free it. On their way there, not far from Homs, the convoy was attacked by IS militants," she explained.
"We express our condolences to family and friends of Khaled, and will support them in any way possible. We thank Khaled for his courage and bravery," Manna said.
Khaled's father, Gasan Alkhateb, told RT his son loved his work and was always ready to risk his life for the sake of telling the truth.
"I express gratitude to RT and his colleagues. This tragedy is our common tragedy. You were his second family. This is our destiny and we are proud of him. He was always a strong person. He never stopped of anything to convey the truth. Everybody, who knew him, knows this. Everybody knows what a person he was. He loved his homeland, his job and the Syrian people."
Khaled lost his life in the fight for his homeland and against "those beasts from ISIS," he added.
The journalist appears to have last been online Sunday morning. His post on Facebook reveals his location in Al-Sukhnah, Syria.
Cameraman Muutaz Yaqoub, who was working with Khaled Alkhateb, was injured in the shelling. He was sent to a hospital in Homs with minor injuries.
"The death of the journalist working with RT is a very sad event for all of us," RT's editor-in-chief, Margarita Simonyan, said in a statement. "For the first time in RT's history, a person who was working with our channel in hot spots has died. [I wish] courage to Khalid's family, friends, and colleagues and everyone who knew and loved him. We will do everything we can to help his family in this situation."
In Alkhateb's last news story, from last week, refugees from Raqqa spoke to him about the death and destruction caused by coalition strikes.
"The coalition bombed schools and civilians. That's why our children do not go to schools now. Many civilians were hurt, as it [coalition] hit both schools and hospitals," Abu Amdjad told Alkhateb, who worked with RT Arabic last week.
The man was among many other civilians who had been forced to flee Raqqa, Alkhateb reported from the Syrian city of Hama. In their home town, not a single government building was left unscathed from the coalition airstrikes, people told the reporter, saying that the US-led coalition bombed every building, claiming that IS terrorists were hiding there.
A fourth grader told the journalist that the coalition forces bombed his school and "deprived us of the opportunity to study."
"There were refugees from Aleppo and other areas inside the school during the raids. Many of them died as a result of these airstrikes," the boy said.
People from small villages in the Raqqa region also shared their suffering with Alkhateb, claiming the coalition strikes had destroyed their homes, water supplies and "burnt down hundreds of hectares of land." Locals lost all their crops, they lamented.
Another Raqqa resident said the coalition used white phosphorus in several districts. In June, Amnesty International
warned
the US-led coalition against the use of white phosphorus near civilians which is against international law.
"It is obvious that all the sides who are responsible for deploying aviation, including the international coalition, all those who give orders, should very well think of the consequences of their actions. For the civilians not to be killed or forced to flee, and all the civilian infrastructure not to be destroyed," Alkhateb said in his last report for RT Arabic.
On Sunday, the journalist was
killed
in a rocket attack by IS militants in Homs province. He died while filming a report on the Syrian Army's operations against IS terrorists. His cameraman, Muutaz Yaqoub, was injured in the shelling. Several Syrian soldiers were also killed and injured in the attack.
The same day, at least six civilians were reportedly killed and 10 others injured in the US-led international coalition bombing of the city of Abu Kamal in the Syrian governorate of Deir ez-Zor, Syria's SANA news agency
reported
. Women and children are reportedly among the dead, SANA said citing local sources, also claiming that the airstrikes caused serious damage to civilian infrastructure.
Last week, while demanding that the American-led coalition strikes stop, Damascus told the UN that it wants the US and its allies to pay for the destruction of Syrian infrastructure and to bear legal responsibility for "illegitimately" bombing civilian targets.
The ongoing US-led anti-terrorist airstrikes "continue to claim the lives of hundreds of innocent Syrian civilians," the Permanent Mission of the Syrian Arab Republic to the United Nations said in letters addressed to the UN Secretary-General and the President of the Security Council.