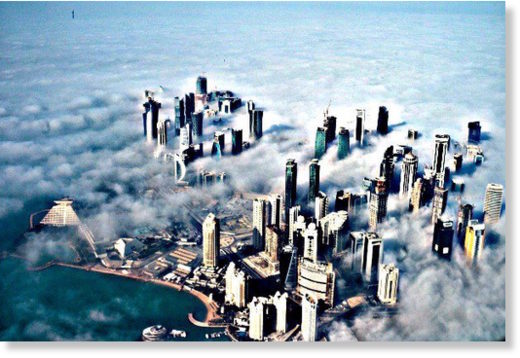 Casino magnate Sheldon Adelson and Israeli interests he funds are behind a series of computer hacking incidents that have resulted in a serious split between Qatar, the home of the U.S. Central Command's massive Al-Udeid airbase, and a bloc of Qatar's erstwhile Gulf Cooperation Council (GCC) allies that include Saudi Arabia, the United Arab Emirates, and Bahrain.
WMR has learned from unimpeachable intelligence sources who monitor Adelson's worldwide activities that the casino tycoon has
used the neoconservative and Washington-based Foundation for the Defense of Democracies and like-minded groups, all with close propaganda links to the Israeli government, to spread falsehoods attributed to the Emir of Qatar and the UAE government.
The reason for the propaganda operation is to drive a wedge between Arab states that take a strong stand against Iran and those who maintain cordial ties to Iran.
What has led to the crucial divide between Qatar and its Arab neighbors are two hacking incidents. One was the hacking of the Qatar News Agency website and the alleged insertion of a "fake news" story reporting that Qatar's emir, Sheikh Tamim bin Hamad Al Thani, told a group of Qataris in a speech that "there is no wisdom in harboring hostility towards Iran." Sheikh Tamim also reportedly had kind words for both Hamas and Lebanon's Hezbollah.
Although Qatar insisted the story was fabricated, Saudi Arabia led a group of GCC partners, including Bahrain and the UAE, as well as Egypt, Maldives, Mauritania, and the Saudi-financed puppet regime in eastern Libya and the Yemeni government-in-exile in Saudi Arabia to sever diplomatic, transportation, commercial, and military ties with Qatar. Jordan downgraded its diplomatic ties with Qatar.
Adelson and his FDD and other pro-Israeli information warfare specialists wanted to punish Qatar for not only backing Iran but also hosting in exile in Qatar the political leader of Hamas, Khaled Mashaal.
The placing of a fake news story in the computer system of the Qatar News Agency and the resulting breakdown of relations between Qatar and its Arab partners was the first phase of the operation.
The second phase was the release of emails, allegedly hacked from the Hotmail account of the UAE ambassador to the United States, Yousef al-Otaiba. An initial tranche of the emails were released by a previously unknown group called GlobalLeaks, which was neither connected to WikiLeaks nor an Italian software company called GlobaLeaks.
Oteiba's alleged emails, which span the time period from 2014 to this year, claim that Oteiba participated in a back channel relationship between the UAE and Israel facilitated by the FDD. The emails also purport to show that Oteiba participated in an Adelson/FDD operation to tarnish both Qatar and Kuwait as sponsors of terrorism and that this effort involved not only the UAE but Saudi Arabia.
Owing to the importance of the Al Udeid airbase to US CENTCOM operations in the region, Otaiba is a frequent participant in Pentagon activities, including anti-Islamic State operational planning meetings. One of the emails attributed to Otaiba is part of an exchange between the ambassador and John Hannah, the arch-neocon national security adviser to then-Vice President Dick Cheney and a key cog in the fake intelligence, including altered and re-edited CIA analysis reports, used to justify the U.S. invasion of Iraq. The Otaiba-Hannah email exchange,
which is now believed by intelligence analysts to be fraudulent
, claims that Hannah complained to Otaiba that Qatar was sponsoring a meeting of Hamas in Doha at a hotel owned by the UAE. The email states that Otaiba told Hannah that the Al-Udeid airbase was the real problem in the region, adding "How's this, you move the base then we'll move the hotel." There are 8,000 U.S. military personnel stationed at Al-Udeid, along with aircraft and other war equipment.
The emails also contain an alleged agenda for an FDD-UAE meeting to be held from June 11 - 14 in which the disruption of Qatar-based Al Jazeera, Qatar's links to the Muslim Brotherhood, and dissuading U.S. companies active in Saudi Arabia and the UAE from extending their business to Iran were to be discussed. The emails claim that former U.S. Defense Secretary Robert Gates and Mark Dubowitz, the chief executive officer of FDD were to attend the June meeting. Dubowitz is a South African-born Jew who vigorously opposed the international nuclear deal with Iran and supports increased sanctions on the nation. In addition to heading up the FDD, Dubowitz also leads the FDD's Center on Sanctions and Illicit Finance.
Adelson, who was a multi-million dollar donor to Donald Trump's presidential campaign saw the presence of Trump, his Orthodox Jewish daughter Ivanka Trump and son-in-law Jared Kushner in the White House hierarchy, as a rare opportunity to squeeze Qatar over its relations with Iran and disrupt Al Jazeera. Trump did not disappoint Adelson or the Saudis. On the morning of June 6, Trump tweeted: "During my recent trip to the Middle East I stated that there can no longer be funding of Radical Ideology. Leaders pointed to Qatar—look!"
Against the wishes of his own Defense Department and national security adviser, Trump decided to weigh into the Gulf Arab split engineered by right-wing Jewish hacking efforts to declare his support for Saudi Arabia and its allies, placing the Al-Udedid airbase in jeopardy.
Furthering the dissemination of the FDD-Israeli hacking "product" were Israel's always-reliable media partners, including Glenn Greenwald's
The Intercept,
which also burned former U.S. Air Force and inside National Security Agency source Reality Winner by making it easy for NSA to determine the source of a leaked Top Secret Releasable to Five Eyes report on Russian military intelligence computer probes of U.S. election-related computers prior to last Election Day.
The Intercept
was sloppy with Winner's hard copy document by making an image of it available to NSA, which then drilled down using obscure and unique "printer dots" and paper folds to determine Winner was the leaker.
Joining
The Intercept
in spreading the fake UAE-FDD emails and phony Qatar News Agency report were
The Daily Beast
and CNN, both hives of Israeli propaganda activity.
CNN and like-minded media outlets reported that GlobalLinks and those who hacked the Qatar News Agency were "Russians," the default bogeymen for all hacking events, as far as the corporate media is now concerned.
Adelson has become the "George Soros of the far right" through his media acquisitions and influence. He owns the
Israel Hayom
and
Makam Rishor
newspapers in Israel, both of which support the far-right government of Binyamin Netanyahu. Adelson's sponsorship of the FDD has expanded his reach into American newsrooms with the type of fake news stories that have split the Gulf Arab and other Muslim nations into two camps: Saudi Arabia, UAE, Bahrain, Yemen, Egypt, eastern Libya state, and Maldives on one side and Qatar, Kuwait, Oman, and Turkey on the other.
U.S. strongman Trump claimed he was going to create an "Arab NATO" prior to his recent visit to Saudi Arabia. Instead, Trump left the region in a huge pile of camel dung with himself as the chief shit tosser via his Twitter feed.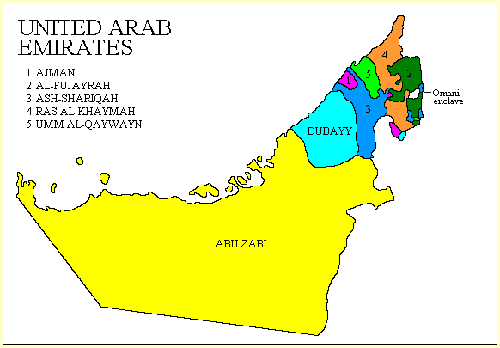 Trump's incompetence and his fealty to Adelson and his operatives, including Jared Kushner who has pushed for Adelson's picks to be appointed to senior positions within the National Security Council, State Department, and other departments, may have further repercussions in the Middle East. Two members of the UAE federation, Dubai and Sharjah, both of which have close commercial contacts with Iran, are not happy about Abu Dhabi, which holds the UAE presidency, cooperating with Saudi Arabia in isolating Qatar. In fact, Abu Dhabi and the other six UAE federation members [see above map] have never been further apart on foreign policy.
Geographically and culturally, Dubai, Sharjah, Ajman, Umm al Qaiwain, Ras al Khaimah, and Fujairah, in addition to the Sultanate of Oman, have closer links to Iran than do either Abu Dhabi or Saudi Arabia.
The only thing that is keeping the UAE together is the fact that Abu Dhabi remains the wealthiest of the seven emirates, largely thanks to Dubai's extravagant spending habits which gave it an amazing skyline of futuristic buildings but little else except for massive debt.
To tamp down independent opinions among the "northern emirates," Abu Dhabi authorities have threatened to imprison for up to 15 years anyone in the UAE expressing sympathy for Qatar, and by default, Iran.
Taking a cue from the inter-Arab squabbling in the Gulf, the Islamic State (ISIL) launched two separate terrorist attacks in Iran. One attack struck the Iranian parliament, the Majlis, killing at least one person, a security guard. The other involved a suicide bomb blast at the Ayatollah Khomeini mausoleum between downtown Tehran and the international airport.
Although ISIL claimed responsibility for the Iran attacks, there have been intelligence reports that the group has worked with the U.S., Saudi, and Israeli-supported cult-like Mujahedin-e-Khalq
(MEK), which has conducted several successful terrorist attacks inside Iran. Although once listed as a Foreign Terrorist Organization (FTO) by the U.S. State Department, congressional pressure saw it de-listed in 2012 by the Obama administration. The MEK's chief supporters are also among those who avidly support Israel. They include Senators Ben Cardin (D-MD), Bob Corker (R-TN), John McCain (R-AZ), Jack Reed (D-RI), Robert Menendez (D-NJ), Jeanne Shaheen (D-NH), and Roy Blunt (R-MO) and Representatives Elliot Engel (D-NY), Ed Royce (R-CA), Nancy Pelosi (D-CA), and Brad Sherman (D-CA). Secretary of Transportation Elaine Chao is among those who are also strong supporters of the Iranian terrorist group, along with such neocons as John Bolton, Newt Gingrich, and Fran Townsend, the latter considered for the top FBI job by Trump. Other strong supporters of the MEK include former Secretaries of State Hillary Clinton and John Kerry.
Adelson's international activities have been under close scrutiny by two of the world's best intelligence agencies, Britain's MI6 and China's
Guojia Anquan Bu
(
Guoanbu
). From Macao and Singapore to Qatar and Abu Dhabi, Adelson has become a thorn in the side of British, Chinese, and other interests. Trump and Kushner have chosen to side with Adelson. Adelson's private shortsighted and amateur intelligence operations aimed at disrupting the Gulf states and the wider Middle Eastern and South Asian region will, by infuriating major international players, ensure that he and his co-conspirators pay a heavy price for their meddling in dangerous sands of the Middle East.
Previously published in the
Wayne Madsen Report
.
Wayne Madsen is a Washington, DC-based investigative journalist and nationally-distributed columnist. He is the editor and publisher of the

Wayne Madsen Report

(subscription required)

.