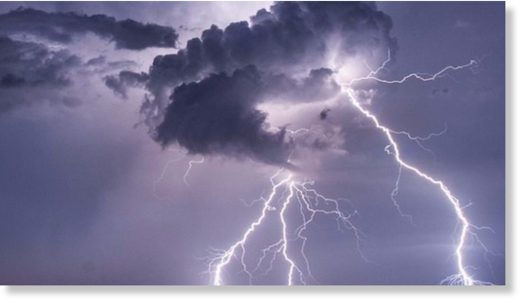 Six people were killed in lightning in three West Bengal districts on Friday evening as a thunderstorm swept across the state's north-western part triggering rain, police said.
While three people lost their lives in Purulia district, two others were killed in Birbhum and one in North Dinajpur district.
In Purulia district's Arsha area, three people were killed and at least nine injured when they were struck by lightning.
"These people had gathered in front of a mosque for their weekly religious rituals when the storm hit. Three people were instantly killed in lightning while nine others got injured and were shifted to the nearby hospital," an officer from Arsha police station told IANS.
According to police, the strong wind followed by heavy downpour caused damage to several earthen households at the villages and disrupted train services briefly.
Two more people were killed in lightning in Birbhum district's Parui around the same time.
"Two middle-aged men have died in lightning strike in Parui. There has been reports of damage of crops and various households after today's thunder shower," said Birbhum Superintendent of Police N. Sudheer Kumar.
One more person died in North Dinajpur district's Itahar, the district police control room said.
Source: IANS