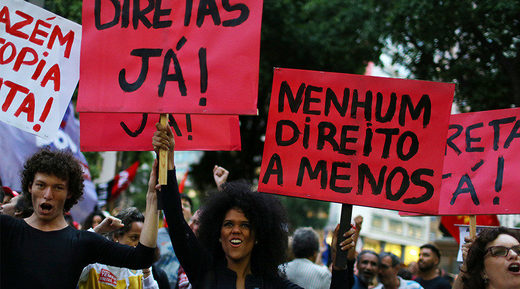 Ousted Brazilian President Dilma Rousseff has called for new direct elections as the Supreme Court publishes testimony accusing the ex-leader, her predecessor, and current President Michel Temer of bribery.
Brazil needs immediate direct elections to overcome the ongoing political crisis, the county's former leader
wrote
on her website on Friday.
"The only way out of the crisis is direct elections, now" she said. "No indirect election will have the legitimacy to take the country out of the abyss into which it was plunged."
The statement came as the country's Supreme Court published testimony from executives of the country's biggest meatpacking company, JBS.
The revelations are allegedly that President Michel Temer, as well as his two predecessors, Luiz Inacio Lula da Silva and Rousseff, were involved in massive bribery and corruption schemes in which JBS was given contracts and low-cost credits, as well as resolving tax and other issues with the authorities, Reuters
reports
.
The company paid out about $154 million in bribes, according to JBS executives.
Prosecutor General Rodrigo Janot also accused Temer of trying to escape justice and paying hush money to a jailed politician, based on the recordings provided to the court.
The huge graft case, dubbed 'Car Wash,' involves many other politicians accused of bribe-taking. The investigation also focuses on money laundering by state-run oil giant Petrobras.
The country has plunged into a political crisis amid the unfolding corruption scandals, in which over 90 businessmen and politicians were found guilty.
Dozens of inquiries have also been launched against the current political establishment, including a third member of Temer's cabinet.
Calls for investigating the president have also been voiced this week, as the alleged criminal practices "are underway or about to occur," according to Supreme Court Justice Edson Fachin, as cited by Reuters.
Despite the revelations, Temer has refused to step down, triggering anti-government protests and impeachment calls. Demonstrations calling for Temer's resignation are set to take place on Sunday, AFP reports.
Corruption charges, including those linked to Petrobras, were among the reasons that led to the
impeachment
of Dilma Rousseff in 2016, after five years in power. She has consistently denied all the accusations, calling herself the "victim of a coup."