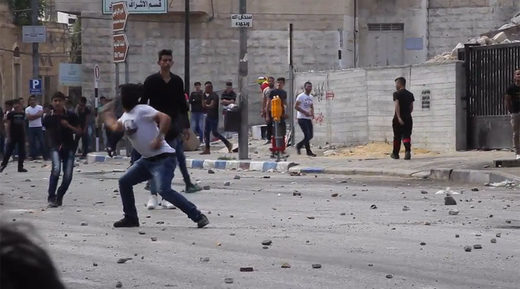 Dozens of people were injured after protests in support of Palestinian prisoners on hunger strike turned violent Friday, with protesters igniting tires and hurling rocks at security forces, who responded with tear gas, grenades and life fire.
The rallies that swept through West Bank and along the Gaza Strip border were held as part of the so-called "Day of Rage" protest action in support of the prisoners in Israeli jails, who have been on hunger strike against squalid conditions of their incarceration since April 17.
In the West Bank city of Hebron, the protesters faced off with Israeli security forces, setting tires alight and pelting soldiers with stones. The IDF, in turn, fired rubber bullets, tear gas and stun grenades to break up the crowd.
Dozens of Palestinians reportedly suffered from the effects of tear gas inhalation in the village of Beit Ummar in Hebron, where protesters attempted to burn down an Israeli flag, Palestinian Ma'an news agency
reported
, citing local activists.
At least four Palestinians were injured by rubber bullets and three were treated for tear gas suffocation at a local hospital in the Bab al-Zawiya area of the city, Ma'an reported.
An Israeli border guard and a soldier have been mildly injured in the clashes in the village of Aboud, where at least 10 Palestinians were reported to be also wounded, including one who was shot with live ammunition.
Overall, some 20 Palestinians have been detained in the fracas across the West Bank, according to the IDF, as
cited
by
Haaretz
.
There have been also reports of Israeli forces firing after the protesters set off towards the border fence separating Gaza Strip from the territory under Israeli control. It came to the showdown between the actvists and the border guards after the former reportedly stormed into the so-called "sterile area" at the border, Ynetnews reported, citing the Israeli border police.
At least 11 activists suffered bullet wounds as a result of the ensuing gunfire, according to the Palestinian Health Ministry, as cited by
Haaretz
. Two of the injured have been in serious condition. Israeli border police put the number of Palestinians wounded by sniper bullets at four, saying the deadly force were used to prevent protesters from trespassing on the Israeli territory.
An Israeli army spokesperson described the protests as "a number of violent riots," blaming Palestinian activists for inciting violence, to which the IDF was forced to initiate "crowd control means in order to disperse the riots." The spokesperson, however, did not confirm the reports of Israeli forces deploying live ammunition to scatter the crowd.
About 1,300 inmates have been taking part in the large-scale hunger strike demanding the improvement of conditions in the Israeli jails. The protesters demand to abolish the practice of unlawful detention, when detainees are kept in cells without any charges brought against them for months, lift restrictions on family visits, provide better healthcare at prisons and opportunities to receive high education.