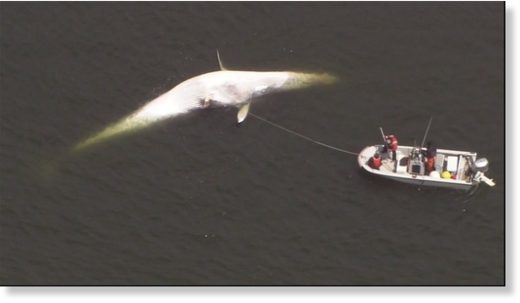 It's a rare find in Puget Sound, dead or alive. The Department of Fish and Wildlife says a dead fin whale turned up in Commencement Bay Friday, apparently struck by a cargo ship.
"What likely happened here is this fin whale was part of a group, and it got struck outside the Strait of Juan de Fuca, and then that ship just pushed all the way into Commencement Bay in Tacoma," said Michael Harris.
Harris is the former executive director of the Pacific Whale Watch Association and has studied whales most of his life. He's not sure what to make of this latest fin whale. He says commercial hunters nearly wiped out fin whales, along with humpback, until it was banned in 1966. Since then, fins have been making a comeback on the coast.
"We've seen large congregations of fin whales pretty regularly outside the Strait of Juan de Fuca, but they're starting to work their way in more and more," said Harris.
Last summer KING 5 featured photographer Stu Davidson when he captured video of what turned out to be a fin whale in Puget Sound. The summer before, Harris says pictures captured the first fin whale in these waters since 1930. Their presence has scientists asking lots of questions.
"Is it a good thing that these whales are here or are they negatively impacting an already dwindling food supply for our killer whales?" Harris wonders.
The fin whale is the second largest mammal on the planet. This one measured between 50 and 60 feet long. The whale was towed to Vashon Island, where it will be carefully examined to determine the cause of death, for starters. Harris says in a few weeks we should know a lot more about this whale and possibly about Puget Sound's ecosystem.
"Maybe the herring population, mackerel, anchovies, all these things that we've had depletions of over the last few decades are coming back. And that bodes well for everything up that food chain, all the way up to killer whales," he says.