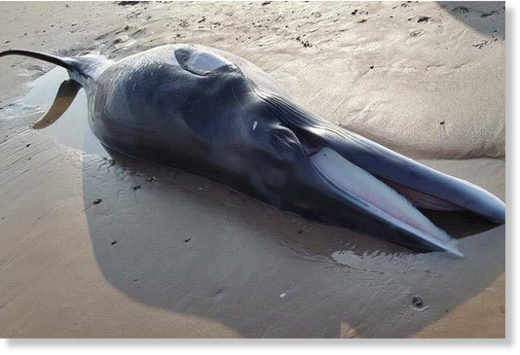 A dead minke whale has been washed up on a Northumberland beach.
The creature was discovered at Alnmouth yesterday. Experts have described it as being an incredibly underweight juvenile and about 4.25metres in length. The cause of death is unknown at this stage.
Jane Hardy, from Alnwick, is a volunteer marine mammal medic for British Divers Marine Life Rescue (BDMLR) and she arrived at the scene at just after 6pm.
She told the
Gazette
last night: "I am sad to say that I was called out to a minke whale on Alnmouth beach. It was first reported at 5.30pm. Amble Coastguards assisted the BDMLR and samples were being taken. It was dead when it breached, but the cause of death is unknown. It was an incredibly underweight juvenile.
"Coastguards were trying to organise to move it further up the beach so the next tide didn't take it."