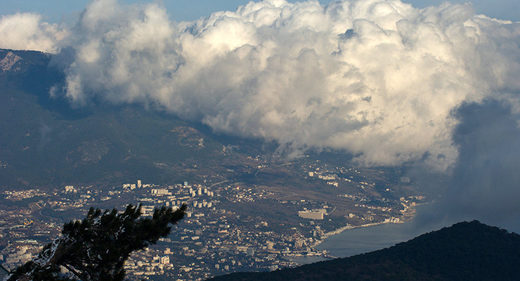 A group of Italian businessmen and politicians is participating in the Yalta International Economic Forum (YIEF) in order to establish reliable partnerships with Russian business, Stefano Valdegamberi, an Italian lawmaker and member of the delegation, said Thursday.
The third YIEF, a major annual economic and business event, kicked off earlier in the day in Crimea.
A total of 1,500 participants from 40 countries are participating in the forum, with the Italian delegation being the largest.
"A solid representation of Italian business community has come to the forum. These people have firm intentions to find reliable partners in Crimea and in Russia in general, in different sectors of economy,"
Valdegamberi
, a member of Italy's Veneto Regional Council from the Lega Nord party, told journalists.
The visit of the Italian delegation is also aimed at expressing their political stance, the lawmaker added, as the representatives do not share some tendencies of the Western countries with regard to Crimea's reunification with Russia.
"We want Russia to be an equal partner in the European economic cooperation and has not be excluded from it as some would like. We are calling for lifting of sanctions from Crimea so that it becomes free. These sanctions do not benefit anyone," Valdegamberi stressed.
During the YIEF, the Italian delegation is expected to discuss major investment projects in Crimea and sign several agreements on strengthening cultural ties with the region, according to the event's organizers.
Sanctions Against Russia 'Defy the Will of the People of Crimea'
Italian lawmakers, going to the Yalta Economic Forum (YIEF) in Crimea, are calling for an end to sanctions on Russia that hamper bilateral trade, Stefano Valdegamberi, a parliamentarian from Italy's Veneto province told Sputnik.
"We have two goals. Italian entrepreneurs are interested in closer ties between Italy and Russia ... As for politics, we stand against the official EU and Italian position in that we think sanctions against Russia and Crimea are groundless and defy the will of the people of Crimea who want it to be part of Russia," Valdegamberi said.
Valdegamberi said economic curbs on Italy's trade with Crimea created hurdles for joint wine production.
"I am going to bring up this issue at the forum. Clearly, anti-Russia sanctions are a punishment for Italy as much as for Russia since they are creating obstacles for Italian businesses," he said.
Italian Lawmaker 'Ashamed' of Crimean Wine Seizure at Vinitaly Fair
Last week's seizure by Italian police of Crimean wine brought to a fair in Verona is scandalous and clearly a work of local bureaucrats, Valdegamberi said.
Bottles of wines were confiscated from the Russian booth at the Vinitaly international wine expo after a complaint from Ukrainian participants. Russian Foreign Ministry spokeswoman Maria Zakharova condemned it as a provocation.
"I am ashamed of what has recently happened in Verona. This does not reflect the opinion of the Italian people. It is a bureaucratic stunt. I hope this situation will never repeat itself," Stefano Valdegamberi said, adding other lawmakers from the Veneto regional council shared his stance.
Crimea seceded from Ukraine and reunified with Russia after more than 96 percent of local voters supported the move in the March 2014 referendum. The European Union did not recognize the vote and imposed sanctions on the region and Russia as a whole.