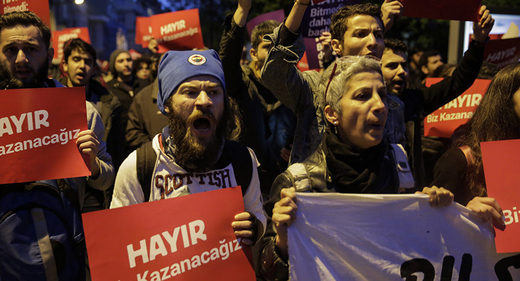 Turkish police on Thursday detained a news website editor, Ali Ergin Demirhan, of opposition news website Sendika.org, on charges of portraying the country's Sunday constitutional referendum outcome as illegitimate, as well as for staging protests and stirring up hatred.
On Sunday, Turkey held a referendum on the transition from a parliamentary to presidential system of governance. Preliminary results of the vote indicate a victory for supporters of the governance shift. The referendum was followed by a series of protests throughout the country, which have resulted in the detention of dozens of anti-referendum protesters.
The state's police seized Demirhan's phone and computer hard drive during the raid of the web portal's offices, conducted in the morning, the
Turkish Minute
newspaper said.
On Tuesday, Turkey's main opposition Republican People's Party spokesman told Sputnik that the party urged the country's Supreme Electoral Council (SEC)
to cancel the results of the referendum
, but on the following day
the SEC rejected the party's appeal
.
On Wednesday, Ozturk Yilmaz, the Republican People's Party's (CHP) deputy chair responsible for foreign relations, told Sputnik that
Turkey's opposition would continue seeking the annulment
of the vote's outcome by all democratic means necessary, regardless of the rejection of its appeal.
The final results of the referendum will be announced on April 27-28 after the consideration of all appeals.