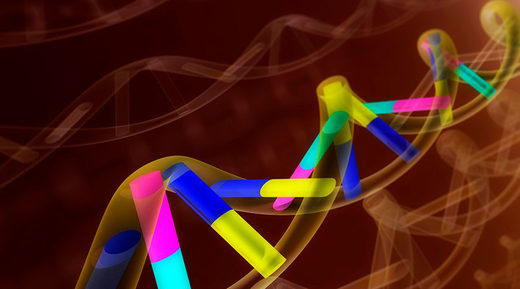 Americans may soon be sidestepping their doctors with an at-home DNA test by 23andMe that determines genetic risks for diseases like late-onset Alzheimer's and Parkinson's, thanks to a historic approval by the FDA.
For the first time Thursday, the Food and Drug Administration (FDA)
approved
direct-to-consumer disease risk tests by the Silicon Valley-based genetic testing company 23andMe.
The 11-year-old biotech company will now be allowed to market their Personal Genome Service Genetic Health Risk (GHR) genetic tests for 10 diseases and conditions.
The test kits are able to isolate DNA from saliva samples to test for more than 500,000 genetic variants that could increase risk for certain diseases. With GHRs, a person can bypass their doctor and test their predisposition to develop certain medical diseases or conditions without obtaining a prescription.
"This is an important moment for people who want to know their genetic health risks and be more proactive about their health," Anne Wojcicki, 23andMe co-founder and CEO, said, according to a
press release
.
The 10 diseases that consumers will be able to test for include
Parkinson's disease, late-onset Alzheimer's, celiac disease, alpha-1 antitrypsin deficiency, early-onset primary dystonia, factor XI deficiency, Gaucher disease type 1, glucose-6-phosphate dehydrogenase deficiency, hereditary hemochromatosis, and hereditary thrombophilia.
The FDA said the authorization came after reviewing data from the company's tests and peer-reviewed literature that demonstrated the GHR tests "correctly and consistently identified variants associated with the 10 indicated conditions or diseases from a saliva sample."
However, the FDA warns that the tests are not conclusive, and the results should not be used to diagnose or inform treatment decision. They suggest consulting a doctor before making any lifestyle change based on the results.
"It is important that people understand that genetic risk is just one piece of the bigger puzzle, it does not mean they will or won't ultimately develop a disease," Jeffrey Shuren, director of the FDA's Center for Devices and Radiological Health, said in the announcement.
The FDA specifically excluded genetic tests that qualify as diagnostics, which are often used as the sole basis for treatment options. That kind of test has also been excluded from future authorization.
The FDA also announced they intend to create an exemption for subsequent GHRs from the company, which would allow similar tests from other manufacturers to market their own test kits after a one-time FDA review.
After being granted FDA approval on Thursday, the company says the tests will be available to the public in April.
"The FDA has embraced innovation and has empowered people by authorizing direct access to this information. It is a significant step forward for 23andMe and for the adoption of personal genetics," Wojcicki said in the company's statement.
In November 2013, the FDA
blocked
23andMe from marketing its GHRs, citing a false positive result could lead to unnecessary treatments, while a false negative could lead a patient to improperly treat an actual risk that may exist. Days after the FDA sent a warning letter, the company was
sued
for "falsely and misleadingly" advertising their tests could provide information on more than 240 conditions and traits. They were also accused of selling genetic information to other sources and the scientific community, as well as failing to obtain approval from the FDA.