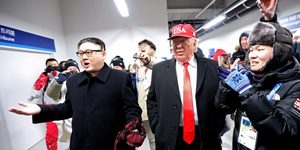 Did The Donald and Rocket Man secretly meet at the Winter Olympics in PyeongChang?
"In keeping silent about evil, in burying it so deep within us that no sign of it appears on the surface, we are implanting it, and it will rise up a thousand fold in the future. When we neither punish nor reproach evildoers, we are not simply protecting their trivial old age, we are thereby ripping the foundations of justice from beneath new generations."
- Aleksandr I. Solzhenitsyn
Recent Comments
Lets keep these sugar articles coming. Im loving all this knowledge. +1
---
i will do it. It's easy.
---
Actually there was a book written by Kazou Ishiguro called Never Let Me Go Where children are brought into the world to be the ultimate donors....
---
There was American collusion- wray, yates, meuller, comey, mc cabe, rosenstein, strzok/page, clapper, brennan, clinton, mc cain, sessions, shitt,...
---
An an analysis conducted by Columbia University social-media researcher Jonathan Albright of more than 36,000 tweets controlled by the...