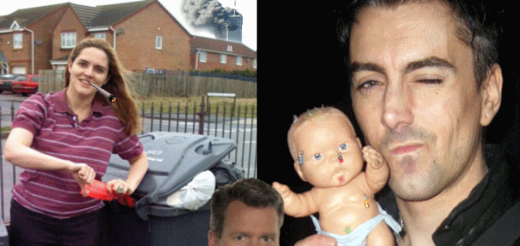 Louise Mensch's history of hypocrisy in her political and journalistic career has been well-documented, but her damage control on the behalf of her husband's pedophile client has been all but buried over the years.
Louise's husband Peter is the
founder of Q Prime
which managed the band Lostprophets for many years and still receives royalties from its success. After Ian Watkins, the lead singer of Lostprophets, was sentenced to 35 years in prison for
sexually abusing a small child
and producing footage of the lewd acts ("lewd" doesn't even begin to describe how heinous and horrific the things Watkins did are, but they probably can't even be vaguely described without the advertising on this site being shut down entirely), Mensch claims that Q Prime knew nothing that might raise any eyebrows about Ian's behavior.
The denial of having any foresight seems a bit suspect given that fans had been
complaining about Watkins on social media
and accusing him of pedophilia for many years prior to his arrest.
At some point, this should have raised a red flag with Lostprophets' management team. Surely, out of the many so-called 'super-fans' who knew about Ian's activities, one of them would have brought this to Q Prime's attention.
Accounts of Ian Watkins courting underage fans backstage had been public for several years and his sexual affinity for youth was effectively an open secret.
Watkins'
ex-girlfriend alerted authorities
on many occasions and the detectives with whom she spoke were investigated and fired for willfully ignoring her reports. If police are to be investigated and held accountable for their inaction, then Q Prime ought to be as well; and it's likely that there was some sort of correspondence between the witnesses and Peter Mensch's company.
Louise Mensch has always been proactive in shilling her husband's operations, so she definitely can't blame her own blind eye on a lack of interest.
@KatieParsons yaay! hope you like lostprophets waiting for the reax

— Louise Mensch (@LouiseMensch) July 23, 2009
Got to say, the @lostprophets new album cover is proper rock n' roll. http://bit.ly/1dySKV

— Louise Mensch (@LouiseMensch) November 19, 2009
Interesting how Louise moves from glowing praise of Lostprophets to openly condemning them as a "crap band" in just a matter of years.
@gedrobinson they lost money managing the lost prophets. Crap band, aside from any other issues. It is for Watkins to compensate btw.

— Louise Mensch (@LouiseMensch) February 25, 2014
@___OST___ @brianmoore666 he fired them because they made bad records and abused his staff, btw. We feel terribly for Watkins' bandmates.

— Louise Mensch (@LouiseMensch) March 4, 2014
Louise claims that Lostprophets were canned from Q Prime due to sub-par performance even though their albums had been widely praised by critics and the band was regularly nominated for (and has won) major music awards, even up to the point of their inevitable break-up. Aside from the sick actions and behavior of its frontman, Lostprophets was a prolifically successful and profitable cash cow. After Ian Watkins pled guilty to the charges against him, the Lostprophets bandmates released the following
farewell statement
which contradicts Mensch's claims:

If Q Prime was operating at such a loss by continuing to keep Lostprophets' repertoire on-board, then why not release the rights to their music altogether? Why not donate Ian's share of the revenue to victims of child abuse? Think of the children! In 2013, Mensch dissolved her own multi-million dollar Twitter clone social network, entitled Menshn (she claims that it's
not
a play on her own name), because the co-owner had been accused of pedophilia due to e-mails and photos leaked after a hack. Luke Bozier, Mensch's partner (who she had reported to the police for possessing child pornography),
wrote on his blog
that "she no longer wishes to run a company in which I own shares."
Mensch's moral inconsistencies are likely due to the neurosis caused by having engaged in hardcore drug use for so many years.
Coincidentally, this substance abuse occurred during her years as a sexually promiscuous rock band groupie (perhaps she was a 'super-fan' of Ian Watkins...or was she too old?). In an
interview circulated by Evening Standard
, Louise stated, "I
did serious drugs and it messed with my head
, and it's a terrible thing and I do not want to see other young people exposed to that by legalization."
While it is admirable that Louise recognizes her own mental illness and wants to prevent it from occurring in other people, her behavior still isn't doing her any favors. Near the end of BBC documentary
Troll Hunters
, Louise reveals that a man had been sending inflammatory memes to her over Twitter and she had tracked his address down in the UK. After Mensch discovered the location of her troll, she physically stalked him and loudly confronted him in front of his home. Behavior like this is wildly unhinged considering that Louise attempts to color herself as an anti-censorship cultural libertarian. What contradicts Mensch's anti-trolling stance even more is the fact that she viciously attacks people online, which is behavior she deems as harassment.
Earlier this year, UK Green Party's Jonathan Bartley was in a hospital with his son who was awaiting major surgery. Mensch took the opportunity to call Bartley a "scumbag" and vilify him for his political opinions.
Well scumbag enjoy the fact you were wrong you loathsome tit. Jeremy is staying https://t.co/5fgFJb8w0J

— Louise Mensch (@LouiseMensch) July 14, 2016
Given Mensch's tender sensibilities about pointed internet comments, this is nothing short of hypocritical.
People like Louise Mensch have a place in society and it's typically inside of a padded room. She's admitted on several occasions that she's mentally ill and this supports the idea that
her 9/11 eyewitness account
was embellished, if not completely fabricated.
Why hasn't Louise Mensch's husband disclosed any information about the Lostprophets singer's sexual proclivities?
Perhaps he just doesn't want any...lost profits.