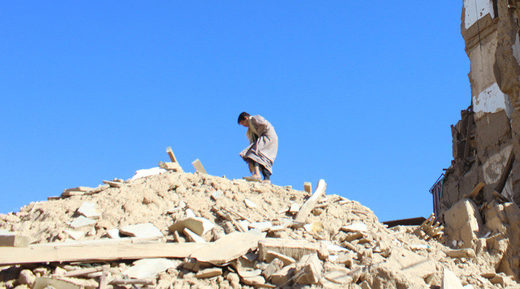 At least 17 people have been killed in a Saudi-led coalition airstrike on a marketplace in the town of Al Hudaydah in Yemen, medics told an RT stringer.
More than 12 people were injured, with the medics warning that the death toll may rise to over two dozen.
According to AFP,
26 people, including 20 civilians and 6 Houthi rebel fighters, were killed in the airstrike.
The militants allegedly fled to the market to escape the bombardment, but were still targeted by the warplanes.
A military source close to Saudi-backed President Abedrabbo Mansour Hadi told AFP that the rebels used civilians as "human shields."
Al-Masirah TV channel, controlled by the Houthis, reported that 27 people were killed and dozens wounded in the attack.
The Red Sea port of Al Hudaydah is Yemen's fourth-largest city, with a population of around 400,000, located in the west of the country.
Since March 2015, Saudi Arabia has headed an international military coalition carrying out an unrelenting campaign of airstrikes against the Houthi rebels in Yemen.
Riyadh and its allies have been accused of war crimes by humanitarian groups after their airstrikes hit residential areas and public gatherings on numerous occasions.
Human Rights Watch (HRW) reported in October that the Saudi coalition, "with direct military support from the US and assistance from the UK," conducted at least 58 "
unlawful airstrikes
."
In late February, the UN humanitarian coordinator for Yemen, Jamie McGoldrick, said that around 10,000 people have been killed in the country since Saudi Arabia intervened, with 7 million people close to starvation.
According to World Health Organization figures, more than 7,400 people have been killed, with around 1,400 of them being children.