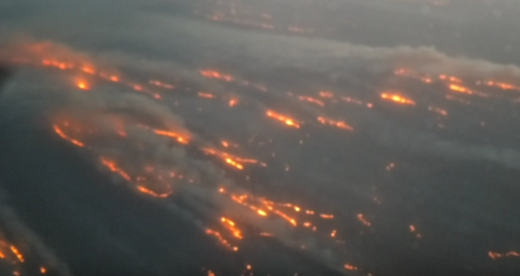 "It's horrible, just horrible. I left the house with (60) shells and used them all," Konrade said. He said he probably killed 40 cows, "and in a lot of places there weren't even very many left alive to put down."
"All in all, I'd guess I seen between 300 and 400 dead cattle," he said. "It was just a matter of putting animals out of their misery, doing them a favor. They were going to die anyway.
"It's horrible out there, the things I saw today. The fire was so big, and so much of Clark County burned, I don't see how anything lived through it."
The state of Kansas is burning at unprecedented levels. Parts of it are literally scorched earth at this point. And many people are having to shoot their own cattle in order to avoid the perils from all the smoke and fire. Clark county has been burned almost entirely. An entire county, smoldering in ashes.
According to Randall Spare, co-owner of Ashland Veterinary Center, via
Kansas.com
.
"Let me put it into perspective: If someone had 500 cattle on their ranch, I'd guess at least 80 to 90 percent were killed in the last day," Spare said. "That's not including the calves; we're really getting into calving season and there was a lot of baby calves on the ground."
The fires have all but taken down the entire county of Clarke.
The combination of severely dried out lands and 60 mph winds has led to a tinderbox in the state.
A drone view shows Meade, Kansas burning into ash and smoldering. This video was taken Monday evening, March 6th 2017 somewhere around Meade, Kansas about 6 miles high. These fires were spread out as far as the eye could see, for dozens of miles. They started in the panhandle of Oklahoma.