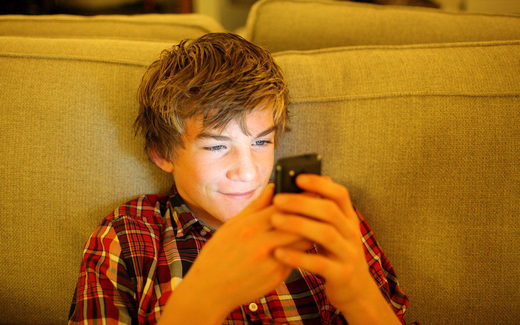 Almost every day when they get home from school, Gracie, age 16, and Sarah, age 14, open the
app Houseparty
, where they can video chat with to up to seven of their friends at once. The sisters, who live in Danville, Calif., use it to socialize and collaborate on homework, for 15 minutes to an hour. When they first open it they may be chatting with just one friend, but everyone they're connected to on Houseparty gets a push alert that they're "in the house," and, soon enough, the room fills up. It might even spill over into other rooms, growing organically, just like a real house party.
Teens have been hanging out online for 20 years, but in 2017 they're doing it on group video chat apps, in a way that feels like the real thing, not just a poor substitute. Ranging in age from adolescents to their early 20s—the group loosely defined as
"Generation Z"
—
these young people are leaving the apps open, in order to hang out casually with peers in a trend some call "live chilling."
This phenomenon is made possible by the sudden ubiquity of video chat, in messaging apps such as
Kik
and
Facebook Messenger
, as well as stand-alone apps including Houseparty,
Fam
,
Tribe
,
Airtime
and ooVoo.
Houseparty, which launched in February 2016, says it reached one million daily active users within seven months. Fam, launched in December 2016, reached a million downloads within 12 days
, says co-founder and chief executive Giuseppe Stuto.
These apps make sense now in part because more teens than ever have access to smartphones. In 2015, the
Pew Research Center reported
73% of U.S. teens have access to a smartphone
, and that figure is growing.
Those teens are checking their phones on average more than 80 times a day
,
according to Deloitte
.
It isn't just that teens have phones, and that the infrastructure required to handle multiple simultaneous video streams is more accessible to developers than ever. It is also that
teens aren't getting out to socialize in real life like they once did
. One in three teens told Pew that they hang out with friends outside of school less often than "every few days."
"To me that's where this story begins," says Ted Livingston, founder and chief executive of Kik, a messaging app with
300 million registered users
that is especially popular with American teenagers. It is hard for older generations to understand how young people cope with this lack of physical hangtime, he says. "The answer is they're hanging out with their friends on their phone."
Mr. Livingston says that when teens leave Kik's group video chat open for hours, it is a sort of passive window into friends' homes and lives. This behavior isn't so different from the way Generation X would call friends after school, and millennials used AOL Instant Messenger and, later, text messaging to keep up with friends, says Ryan Hoover, founder of startup tracking service Product Hunt.
To a large extent, all these technologies have been an adaptation to teens' inability to access one another in person, says Jan Odiaga, assistant professor at Rush University College of Nursing in Chicago, who studies how technology influences activity levels in young people. The situation is worse than ever because of packed schedules, helicopter parenting and the decline of walkable neighborhoods.
The phenomenon is exemplified by a recent case that
made national headlines
: When parents in Maryland allowed their children to walk home from school on their own, police and child protective services got involved. Many parents feel the frustration that social pressures prevent them from allowing their children the same freedom of movement that they themselves had as teens.
The net effect, says Ms. Odiaga, is that teens are spending more time indoors, and are less active, than ever. Studies examining time use since 1965 show a significant decline in active time
accelerating in the mid-1990s
, to the point that young people today are sedentary for more than 10 hours a day, says Ms. Odiaga. We're at the point now, she adds, that the
technology is also driving the trend
.
Anytime a technology becomes a more perfect replacement for real interaction, it is a double-edged sword that may leave users that much more inactive and isolated. In adults, heavy social media use has been
linked to depression
.

No one has yet studied the effects of the new video chat apps on teenage moods.
On the other hand, the social aspects of these apps make them preferable to more zombielike screentime. Gracie says she'll turn off the TV and talk to friends if they turn up on Houseparty "because that's just better."
As I interviewed Sarah and Gracie on Houseparty, a funny thing happened—their friends got alerts that a "party" was brewing and, one after the other, joined up. I felt twinge of jealousy—who wouldn't want to be able to check in with their best friends whenever they felt like it? Unfortunately for me, zero adults in my contact list have downloaded the app, a reflection of the fact that these services are spread by an overwhelmingly youthful cohort.
Safety is important with this new breed of video chat app. On Houseparty, any time you enter a room with someone you don't know, the app alerts you to "stranger danger." You can either opt to not join that room or join and suss that person out, as you would in real life. If you decide not to add them as a friend, the only way you'd ever run into them again is by accident.
All of these apps owe a debt to Snapchat, which advanced social media from primarily text to primarily video. Also, because of its ephemerality, Snapchat pushed users toward a kind of sharing that is less staged than what came before. "I call it the post-selfie era," says Sima Sistani, co-founder of Houseparty.
"It's more casual than other social media," says Sarah, who contrasted Houseparty with Instagram, where the permanence of photos and the drive to rack up "likes" means a great deal of pressure to get them just right.
Corrections & Amplifications
Houseparty reached 1 million daily active users within seven months of its launch. Fam reached 1 million downloads within 12 days of its launch. In a previous version of this article, both milestones were described as simply "1 million users." (Feb. 19)